---
Trailer Mounted Water Tank
The Perfect Water Tank Trailer for Arenas, Farms, and Dust Control
| | | |
| --- | --- | --- |
| The Trailer-Mounted Water Tank allows you to moisten the dirt to maintain dust control and keep your competition area safe. This trailer tank sprayer allows you to water on the go with its galvanized spray bar, making for easier and faster spraying down of your arena. The 25-foot firehose is perfect for watering any parts of your arena or farm, with enough extension to avoid dragging the trailer along with you. | | |
Trailer-Mounted Water Tank Features:
• Single Axle (500 Gallon) or Tandem Axle (1000 Gallon)
• Honda Engine with 2" Banjo Poly Pump
• Galvanized Spray Bar with 25' Swath
• Ratchet On/Off Ball Valve
• 1 1/2" x 25' Firehose & Nozzle

• 2" x 20' Suction Hose & Strainer
• Recirculating Valve
• 6" Channel Iron Trailer Frame
• Adjustable Clevis Hitch
• Tension Spring Axles
The Right Size for Your Arena
The trailer-mounted water tank is offered in two sizes; 500 gallons and 1000 gallons. The 500 gallon tank is elliptical shaped, giving it a lower center of gravity for easier maneuverability and control. The 1000 gallon tank is round, making draining the tank a quicker and easier process. The galvanized spray bar, located on the back of this arena trailer, is perfect for moistening the dirt in your arena or controlling dust on the roads and parking lots around your facility. The 25-foot firehose will allow you to spray down pens and stalls, irrigate trees or landscape, and fight grass or hay fires with ease.
Common Uses:
• Dirt Packing Before Events
• Dust Control
• Stall Cleaning & Spraying

• Disinfecting Stalls or Alleys
• Livestock Washing & Watering
Arena Trailer Mounted Water Tank Technical Specifications



Tank
1025 gallon Leg
500 gallon Elliptical
Length
200"
148"
Height
82"
64"
Width
80"
78"
Weight
1800 lbs.
850 lbs.
Frame
6" Channel Iron
(non DOT Trailer)
6" Channel Iron
(non DOT Trailer)
Axles
Tandem Torsion Spring
Single Torsion Spring
Tandem Axle Rating
1400 lbs.
5200 lbs.
Wheels
15" x 8"
6 hole
4.62" Hole Pattern
15" x 8"
6 hole
4.62" Hole Pattern
Wheel Track
68"
67"
Brakes
none
none
Tires
11L-15
11L-15
Included with all

-2" Banjo Poly Pump
-Honda Engine
-Galvanized Spray Bar
-2" x 20' Fill Hose with Suction Screen
-1 1/2" x 25' Fire Hose and Nozzle
-Ratchet Ball Valve
Note: This trailer's also a popular choice as a decier trailer for small airports.
Additional Water Trailer Options: The Trailer Mounted Tank is one of many units designed to provide safe and effective water transportation. If you're looking for a different size, or need a DOT compliant trailer, our Express Water Trailers include: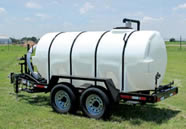 Whether your water trailer has surge brakes or electric brakes is determined by several factors, incluging the size and style of trailer. Our blog post on the differences between the two types of trailer brake systems will help you pick the right trailer for your needs.
GEI Works also manufactures Argo Water Trailers, available in these same sizes but all will electric brake systems and a host of custom features.

---
© Copyright GEI Works 2011-2018. All rights reserved.
GEI Works is a global solutions provider offering our expertise and products to the following states, countries, territories and provinces:

States:

Alabama, AL | Alaska, AK | Arizona, AZ | Arkansas, AR | California, CA | Colorado, CO | Connecticut, CT | Delaware, DE | Florida, FL | Georgia, GA | Hawaii, HI | Idaho, ID | Illinois, IL | Indiana, IN | Iowa, IA | Kansas, KS | Kentucky, KY | Louisiana, LA | Maine, ME | Maryland, MD | Massachusetts, MA | Michigan, MI | Minnesota, MN | Mississippi, MS | Missouri, MO | Montana, MT | Nebraska, NE | Nevada, NV | New Hampshire, NH | New Jersey, NJ | New Mexico, NM | New York, NY | North Carolina, NC | North Dakota, ND | Ohio, OH | Oklahoma, OK | Oregon, OR | Pennsylvania, PA | Rhode Island, RI | South Carolina, SC | South Dakota, SD | Tennessee, TN | Texas, TX | Utah, UT | Vermont, VT | Virginia, VA | Washington, WA | West Virginia, WV | Wisconsin, WI | Wyoming, WY

Countries, Territories and Provinces:

Malaysia, MY | Indonesia, ID | Antigua and Barbuda, AG | Bahamas, BS | Barbados, BB | Belize, BZ | British Virgin Islands, VG | Cayman Islands, KY | Dominican Republic, DO | Grenada, GD | Haiti, HT | Jamaica, JM | Montserrat, MS | Puerto Rico, PR | Saint Lucia, LC | Saint Vincent and the Grenadines, VC | Trinidad and Tobago, TT | Turks and Caicos Islands, TC | United States, US | US Virgin Islands, VI | Mexico, MX | Campeche, CM | Quintana Roo, QR | Yucatan, YU | Central and South America | Canada, CA | Alberta, AB | British Columbia, BC | Manitoba, MB | New Brunswick, NB | Newfoundland and Labrador, NL | Northwest Territories, NT | Nova Scotia, NS | Nunavut, NU | Ontario, ON | Prince Edward Island, PE | Quebec, QC | Saskatchewan, SK | Yukon, YT