Airplane Deicing Equipment
Airport, Aircraft Deicing Equipment for Safe Travel
An essential part of aviation safety is deicing planes and runways. Airplane deicing equipment should include an appropriately-sized tank to carry and distribute the deicing agent, as well as storage tanks for reserves of the aircraft deicing fluid. The Arena Water Trailer has all the features of a quality deicer, supporting smaller, municipal or private airport operations for safe aircraft taking off and landing.

If you have questions about airport deicing equipment, give us a call at 1-863-261-8388 or request a price quote.
The Airplane Deicing Solution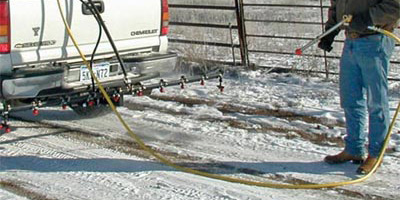 The Federal Aviation Administration (FAA) mandates that the wings of all aircrafts should be free of snow, ice, and frost prior to taking off, as this can negatively affect lift of the aircraft while in flight. The deicing process typically includes coating the wings with an aircraft deicing fluid that removes snow, ice, and frost from the wings, and an anti-icing agent that prevents the formation of these on the aircraft.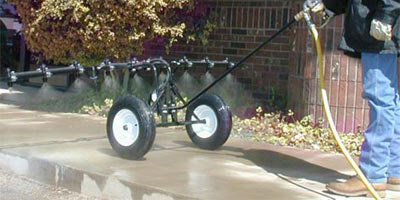 The deicing of runways, taxiways, and aprons improve the surface friction, braking action, and directional control of planes taking off and landing. Airport deicing removes any snow, ice, or frost that may have accumulated on these surfaces during the cold winter months. Using airplane deicing equipment will help facilitate safe departure and arrival.
Deicing Equipment for Aircraft: Spraying Trailer to Handle the Job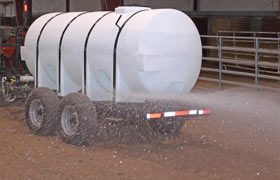 While large airports need specialized industrial equipment to deice many runways, a deicer trailer is better suited to a small, local airport. Also used for arena operations, the non-DOT Arena Trailer is a popular choice for use as airplane deicing equipment, with features that support airport operations. This multi-functional trailer will allow for the deicing of planes and runways during the cold months, and can be used for equipment washing, water transportation or even landscaping in the warmer months.
Honda Engine with 2" Banjo Poly Pump
Galvanized Spray Bar with 25' Swath
25' Firehose and Nozzle
20' Suction Hose and Strainer
6" Channel Iron Trailer Frame
Quickfill and top fill ports
500 and 1,000 Gallon Sizes
See product details: Arena Trailer (Non DOT)
If you're looking for a DOT-compliant water trailer, see our line of Express Water Trailers. For tailor-made water trailers, the Water Trailer by Water Storage Containers offers many customizable features.
Safe Storage of Deicing Brine for Airplane Deicing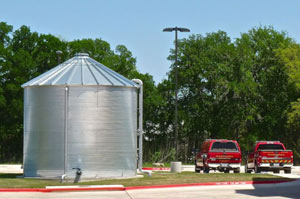 The use of airplane deicing equipment is crucial for the safety and on-time operations of any airport. Popular chemical solutions include magnesium chloride and sodium chloride to rid a runway of snow, ice, and frost. Keeping these materials available at all times will support airport operations and safety programs. Have the right liquid storage containers on-site to provide a ready supply of brine storage for quick access when needed. Corrugated Tanks and Welded Steel Tanks are recommended brine storage choices.
If you have questions about deicing equipment or storage, give us a call at 1-863-261-8388 or request a price quote
.