---
Rain Water Tanks
A Variety of Options & Tank Styles for Rainwater Storage
Rain Water Tanks are a great solution for locations dealing with water shortages, droughts or to keep water costs under control. Available in a range of different sizes and models these tanks can be used as collection tanks, irrigation water supply, supply for home or business utilities and more.
Choosing a Rain Water Storage Tank
Choosing the right rain water tank for your location is dependent on several different factors including your water storage requirements, available space and intended storage location. The information provided below describes some of the most commonly used rain water storage and collection tanks we have to offer.
Plastic Rain Water Tanks
Plastic Rainwater Tanks are some of the most affordable and frequently used tanks on the market today. Constructed from high resistance polyethylene (plastic), each tank is naturally resistant to rust, corrosion and UV exposure. Plastic Tanks have been used as home collection tanks, business collection tanks and more.
Available Sizes: 305 to 10,000 gallons
Exterior: Dark Green or Black for Algae Resistance
Design: Vertical
Rainwater Collection Pillow Tanks
Rainwater Collection Pillow Tanks are the perfect choice for any location dealing with limited storage space or short term storage requirements. Often placed in basements, under decks or in crawl spaces, these tanks can successfully store and collect water while still remaining out of the way.
Advantages:
Low Profile
Easy to Ship and Install
Potable or Non Potable Fabric
Standard Tanks come with 2 Fittings for Fill/Discharge
View Rainwater Collection Pillow Tanks
Corrugated Water Tanks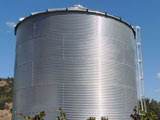 Corrugated Rain Water Collection Tanks are ideal for customers looking to engage in long term collection, storage and reuse. Offering the best of both worlds, these tanks provide a robust exterior, while still offering the flexibility of pillow tank or smaller product. To achieve this, each tank is shipped in pieces and then constructed on site. This allows tanks to be stored in outdoor locations or space-restricted indoor storage locations.
Features
Kits include Tank, Liner, Fittings and Filters
Shipped and Built on Site

Interior Liner Rated for Drinking Water
Reliable Construction and Design
View Corrugated Rain Water Tanks
Cistern Water Liners

Already have a Rain Water Collection Cistern? A great addition to any cistern water tank is potable or non potable liner. Tank liners are sized, fabricated and shipped to your location based on the exact dimensions of your existing unit. This includes boots and fabric that can work around pipes, protrusions, and other equipment that may be in the way. View Cistern Liners
Cistern Liner Uses:
Concrete Cisterns
Steel Cisterns
Leaking Cisterns

Underground or Above Ground Cisterns
Fiberglass Cisterns

---