Water Storage Containers
A Water Tank for Every Need
Water storage containers are essential for any home, business, farm, job site or industrial facility. With a wide selection of tanks and containers, we aim to provide you with the perfect tank for your location and liquid storage requirements. Whether you are looking to store drinking water, rain water, non-potable water or waste water, we have a tank that can meet your needs! Standard models include portable water trailers, emergency water tanks and flexible water storage bladders.

Questions about water storage containers? We can help! Call us: 1-863-261-8388 or request a price quote.
Water Storage Container Options
For more information on each of these water tanks and how they can be used in your location, please check out our water tank selection listed below. While many of our tanks come in standard sizing options, we can accommodate custom requirements as well. If you are dealing with specific tank requirements or custom specifications, please do not hesitate to contact us with your project details.
Portable Water Storage Tanks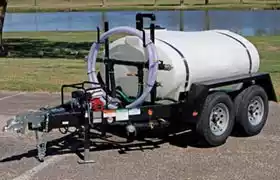 When you need liquid on the go, check out our selection of Portable Water Tanks. Designed for liquid transport, these trailers have been used around farms, industrial facilities, turfs, arenas and other areas where watering vegetation is required.
DOT Water Trailers: 500-1600 gallons
Lawn & Garden Spot Sprayers
Arena Trailers
Pickup Truck Tanks
Wild Fire Control Trailers
Water Storage Bladders and Pillow Tanks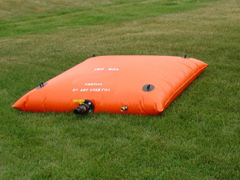 One of our most flexible storage options is the Water Bladder or Flexible Water Tank. These tanks are made with a flexible material that allows the tank to lie completely flat, or folded, when not in use. As the bladder is filled with liquid, it will rise up to accommodate the increased liquids inside the tank. Flexible tank are made in any size from 5 to 210,000 gallons and can hold any of the following liquids:
Emergency Water Tanks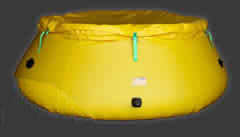 For applications that require emergency storage or quick response, check out our Emergency Water Tanks. These options include quick response open top frame tanks, onion tanks, and small water bladders.
Uses:
Wildland Fire Fighting
FEMA Relief Efforts
Storage for Power Outages
Backup Water Supply for Hospitals
Spill Containment Berm Liner
Rainwater Storage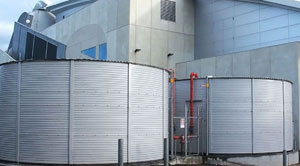 Rainwater Tanks are a great option for anyone looking to decrease water costs, store water for droughts and water shortages, or become more environmentally friendly. Constructed with robust exteriors that are built to withstand long-term outdoor use, these tanks successfully collect water for storage and can be continuously reused.
Models:
Questions? Give us a call at 1-863-261-8388 and we will be happy to discuss your requirements.
Potable Water Storage Tanks
In addition to the options listed above, we also offer a large range of Potable Water Storage Tanks. Designed specifically to help with drinking water applications, these tanks are built with fabrics or interior Custom Cistern Liners that are FDA approved and NFPA compliant for the safe storage of your potable materials. Options include:
Potable Water Bladder Tanks
Fiberglass Water Tanks
Plastic Water Tanks
Steel Water Tanks

Questions? We can help! Call us: 1-863-261-8388 or request a price quote.
Our team is committed to helping you find the right tank solution for your needs! If you are ever unsure of which container will work best for your application, please give us a call at: 1-863-261-8388. We are more than willing to assist you through the selection process to find the tank that will work best for you!