Express 800 Gallon Water Trailer
10000 GVWR Trailer - No CDL Needed!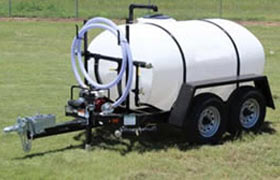 The Express 800 Gallon Water Trailer allows you to carry the maximum volume of water without obtaining special certifications, like a commercial driver's license*. Featuring a 4 HP Honda gasoline engine and a 2-inch Tsurumi pump, you'll have all the water you need for your job site, farm, or residence in one convenient tank. Additionally, moving between locations is made easy knowing that your 800 gallon trailer's DOT safety requirements have been satsified, allowing you to take the trailer onto public roadways with confidence.
*In many states, water trailers with under 10,000 GVWR capacities do not require a CDL or special certifications. Check with your local DMV for specific requirements.

If you have questions about a small water trailer, give us a call at 1-863-261-8388 or request a price quote.
Looking for other features? We have an assortment of water trailer vendors with an extensive offering of styles, sizes, and components at exceptional pricing. All capacities listed are for use with water storage. We ship from warehouses across the U.S. and our team will work with you to provide the equipment that fits your needs, delivered within the time frame that you need it. Contact Us for information on other liquid storage options.
Water Trailers Offer More Water, More Control
The Express 800 Gallon Water Trailer features an elliptical-shape design, giving it a lower center of gravity which makes it easier to maneuver and control. Additionally, the tandem surge brakes can allow your small water trailer to brake with your truck for safe driving on any surface. Standard diamond-tread fenders provide protection from road debris or gravel and to minimize spray or splash of water or dirt. If you need to use a public road to get to your needed location, the trailers are DOT Compliant. If that's not enough, the Tsurumi aluminum pump is supported by a Honda engine, providing superior performance.
Express 800 Gallon Water Tank Trailer Features
Tandem Surge Brakes
Diamond Tread Fenders
LED Lights (DOT Compliant)
8' to 25' Adjustable Width Swath Spray Bar with Flood Nozzles

2" x 4 HP Tsurumi Aluminum Pump with Honda Engine
140 GPM with Galvanized Fittings
Inlet and Outlet Manifold Kit
For additional information on the 800 gallon water tank trailer, see our Express 800 Gallon Water Trailer PDF.
Maintain Access to Water in Any Situationwith Water Trailers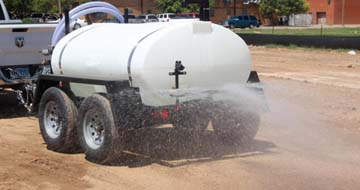 It's hard enough taking care of daily tasks on your job site or farm without several trips to refill your water tank. Despite being a small water trailer with less than 10,000 gvwr, you'll be able to handle all your job site or farming watering duties, such as:
Dust Suppression
Agriculture Watering
Tree Spraying
Livestock Watering
Road Dirt Packing
Small Fire Suppression
Watering Sports Fields
If you need a water trailer with larger capacity, this model is also available with 1,000 Gallon and 1,600 Gallon sizes.
Filling Your 800 Gallon Water Trailer with Ease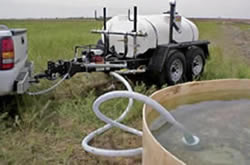 The Express 800 Gallon Water Trailer offers two easy options for filling your tank from any hydrant, pond, or water pit:
Through the Anti-Siphon Fill Tube
Drawing Water Through the Pump
The tank's white exterior makes it easy to see the water level so you can easily manage it during any filling or usage.
Additional Sizing for Express Water Trailers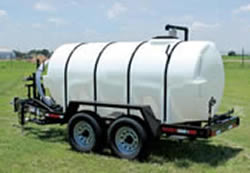 For freeze protection for your water trailer or skid, our Water Trailer Heater Blankets are exactly what you need . When cold weather affects the viscosity of fuel, fluids, and other materials you can lose production time, adding additional costs. Power blankets keep your tanks and smaller corrugated/steel tanks at constant temperature, preventing fluids from freezing in extreme conditions. We customize thermal blankets to meet your specific needs, no matter the tank size or shape. Call us today to find out more!
If you find that your project requires customized options for your water transport trailer, consider the Water Trailer.

If you have questions about our 800 gallon water trailer, give us a call at 1-863-261-8388 or request a price quote.