Water Buffalo Trailer for Sale
525 Gallon Water Trailer
Looking for a heavy-duty water-hauling trailer for your job site, farm, or construction site? Our cost-effective Water Buffalo Trailer for Sale is the answer. The 525 gallon water trailer is a small, durable water trailer, allowing for greater maneuverability. The slipper-leaf spring suspension creates better weight distribution on uneven ground, providing easier, more flexible on-site water delivery. Ask us about the 5-year frame warranty and the 3-year non-prorated leg tank warranty. Non-prorated means your tank is 100% covered for the entire warranty period. This trailer with water tank and pump is the most requested model on the market. Our water buffalo trailer for sale is in stock and always in production, so that you don't have a long waiting time. Select the shipping location closest to you to reduce freight costs - we ship from AL, AZ, CA, KS, KY, MN, ND, NE, and WA. Reduce your lead-time! Call us today!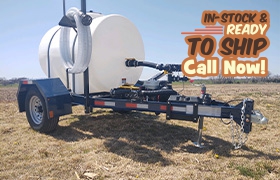 One of our smallest water trailers, the size of the Express 500 Gallon Water Tank Trailer allows for easy maneuverability while it is also lighter for your truck or farm equipment to haul. See additional sizes: Water Trailer Selection.
For more information, see our 500 Gallon Water Trailer PDF. You might also be interested in our 1610 DOT trailer.
Ready to finance your purchase? Click here to apply for financing on this product!
Looking for other features? We have a variety of water trailers with different styles, sizes, and components at exceptional prices. We ship across the U.S. and our team will work with you to fit your jobsite needs, Contact us for information on other liquid storage options.
Go Anywhere with 525 Water Buffalo Trailer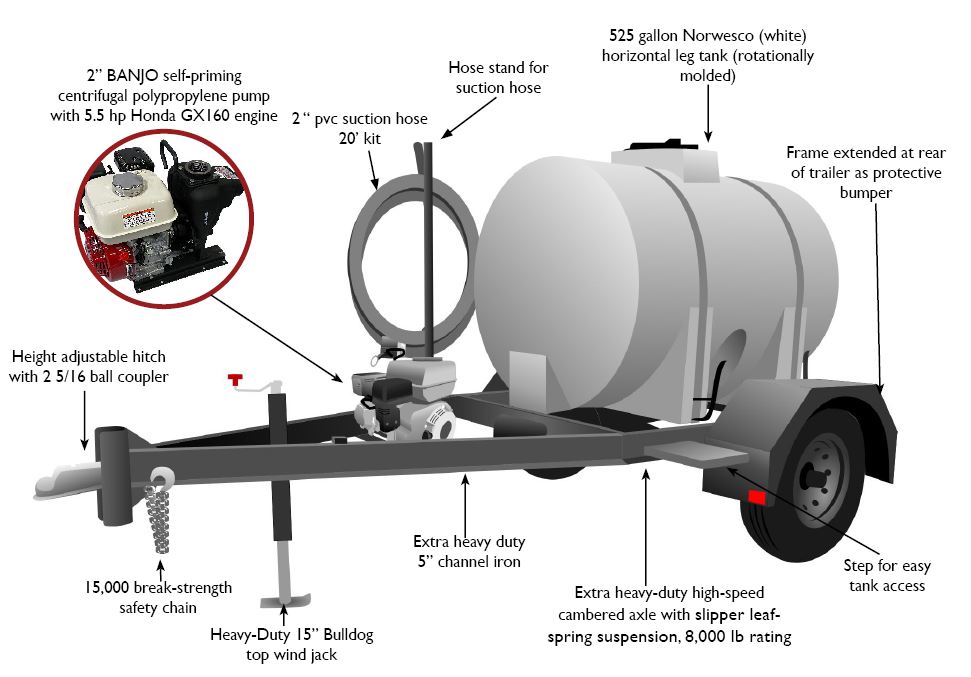 The 525 Gallon Water Buffalo Trailer is able to haul not only water, but heavier liquids to both on-road and remote jobsites. Designed for heavy-weight hauling, our trailers are equipped with heavy-duty suspension, larger wheel bearings, heavier cast hubs, high-speed cambered axles, and highway rated tires. This high-speed trailer package is equipped with electric brakes, fenders, reflectors & LED lighting, making it DOT-compliant for use on public roads.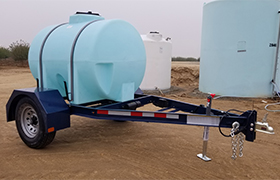 The strong 5" channel iron frame is powder-coated, reinforced along the outside edge to add extra strength, and equipped with a single high-speed cambered axle. Specifically designed for greater maneuverability, water transport to construction sites and other rugged terrain is easier to manage. This 525 gallon water trailer comes equipped with a sprayer and 20-foot hose and hose rack, making it a great choice for a variety of job applications.
The BANJO self-priming pump is supported by a GX160 Honda engine, for superior reliability and performance. The 525 water trailer's quick fill system with camlock and fire hose thread adapter allows for a standard fire hose to be attached for filling from fire hydrants. The height-adjustable ball hitch makes attaching or detaching your truck and trailer quick and easy.
525 Gallon Water Tank Trailer Features and Benefits
Features
5.5 HP Honda Engine, GX160
Full Port Banjo Flange Fittings
Heavy-Duty, High-Speed Single Axle Rated 8,000 Lb.
Height Adjustable Hitch With 2 5/16 Ball Coupler Rated 20,000 Lb.
Bulldog Top Wind Jack Rated 2,000 Lb.
Step Attached For Easy Tank Access
Benefits
DOT-Compliant
Easy To Maneuver
Better Weight Distribution
Quick Fill System
Equipped For Accessories
5 Yr. Frame And 3 Yr. Non-Prorated Tank Warranty
Filling with Ease: 525 Gallon Water Tank with Pump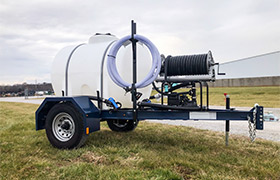 The 525 Gallon Buffalo Water Trailer features a 2-inch PVC fill hose with a poly basket strainer on one end and a female camlock coupler on the other. This allows you to easily fill the tank from an alternate water source such as a pond, stream, or lake. If you want to fill from a fire hydrant, the adapter is included. The fire hose is available on request.
This makes the 525 Gallon Water Tank Trailer ideal for applications such as:
Agriculture Use
Packing a Site for the Foundation
Supplying Water to Lubricate Concrete Saws
Watering Vegetation
As an additional option you can check our Mounted Water Skid.
Additional Water Trailer Accessories
We have water trailer accessories to customize trailers for your specific needs. Optional accessories include algae resistant black tank, extended frame, fire hose/reel/nozzles, suction hose/strainer/stand, tank sight gauge, engine & pump choices, mixers, booms, nozzles, and much more. Ask your One Clarion representative for a list of available accessories!
For freeze protection for your water trailer or skid, our Water Trailer Heater Blankets are exactly what you need . When cold weather affects the viscosity of fuel, fluids, and other materials you can lose production time, adding additional costs. Power blankets keep your tanks and smaller corrugated/steel tanks at constant temperature, preventing fluids from freezing in extreme conditions. We customize thermal blankets to meet your specific needs, no matter the tank size or shape. Call us today to find out more!
Questions? We can help! Call us at 1-863-261-8388 or request a price quote.