1000 Gallon Water Tank Trailer
---
1000 Gallon Water Tank Trailer
Water Trailer Q & A
Good Afternoon. I am looking for a 1000 gallon water tank trailer or something larger for a horse arena. I would need at least 1000 gallons, but I would be open to any kind of larger tank sizing you might also have available.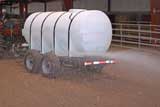 For use in a horse arena, there are a couple of different trailer options you could consider. In general, our largest capacity water trailer system would typically be around 1600 gallons. Due to its size, these tanks are often used on a type of skid system that allows tanks to sit in the back of a large truck or vehicle. You also might consider the use of a 1025 Gallon Water Tank Trailer that is specifically designed for arenas.


Arena Water Trailers
The Arena Water Trailer Mounted Tanks (typically 500 or 1025 gallon) are placed directly to a channel iron trailer frame. This provides the unit with an appropriate level of support for transportation and spray use in arenas. Most trailers come with a poly tank, engine, pump and hoses. If required, models may also include a spray bar for systematic watering or dust suppression.
Typical uses for this type of water trailer includes:
Dust Control
Washing Stalls
Watering of Remote Areas or Landscapes
Disinfecting of Alleys, Stalls or Seating Areas

Skid Mounted Tanks
In addition to this trailer mounted unit we also offer a Skid Mounted Watering System that attaches large tanks to a skid. This skid frame features folding front legs and reliable back legs that allow the system to stand on its own. Legs can be systemically folded up as the unit is placed into the bed of a large watering truck.
These units will similarly be equipped with a pump, engine, spray bar, fire hose and more. Skid mounted tanks may include either an elliptical or leg model and offer a higher level of stability to keep the liquid firmly in tanks during transportation.
Questions about a 1000 gallon Water Tank Trailer?
Call us at: +1-772-646-0597

You can also view all our water trailers on the Portable Water Tanks main page.

---
© Copyright GEI Works 2011-2017. All rights reserved.
GEI Works is a global solutions provider offering our expertise and products to the following states, countries, territories and provinces:

States:

Alabama, AL | Alaska, AK | Arizona, AZ | Arkansas, AR | California, CA | Colorado, CO | Connecticut, CT | Delaware, DE | Florida, FL | Georgia, GA | Hawaii, HI | Idaho, ID | Illinois, IL | Indiana, IN | Iowa, IA | Kansas, KS | Kentucky, KY | Louisiana, LA | Maine, ME | Maryland, MD | Massachusetts, MA | Michigan, MI | Minnesota, MN | Mississippi, MS | Missouri, MO | Montana, MT | Nebraska, NE | Nevada, NV | New Hampshire, NH | New Jersey, NJ | New Mexico, NM | New York, NY | North Carolina, NC | North Dakota, ND | Ohio, OH | Oklahoma, OK | Oregon, OR | Pennsylvania, PA | Rhode Island, RI | South Carolina, SC | South Dakota, SD | Tennessee, TN | Texas, TX | Utah, UT | Vermont, VT | Virginia, VA | Washington, WA | West Virginia, WV | Wisconsin, WI | Wyoming, WY

Countries, Territories and Provinces:

Malaysia, MY | Indonesia, ID | Antigua and Barbuda, AG | Bahamas, BS | Barbados, BB | Belize, BZ | British Virgin Islands, VG | Cayman Islands, KY | Dominican Republic, DO | Grenada, GD | Haiti, HT | Jamaica, JM | Montserrat, MS | Puerto Rico, PR | Saint Lucia, LC | Saint Vincent and the Grenadines, VC | Trinidad and Tobago, TT | Turks and Caicos Islands, TC | United States, US | US Virgin Islands, VI | Mexico, MX | Campeche, CM | Quintana Roo, QR | Yucatan, YU | Central and South America | Canada, CA | Alberta, AB | British Columbia, BC | Manitoba, MB | New Brunswick, NB | Newfoundland and Labrador, NL | Northwest Territories, NT | Nova Scotia, NS | Nunavut, NU | Ontario, ON | Prince Edward Island, PE | Quebec, QC | Saskatchewan, SK | Yukon, YT
© Copyright GEI Works 2011-2017. All rights reserved.
GEI Works is a global solutions provider offering our expertise and products to the following states, countries, territories and provinces:

States:

Alabama, AL | Alaska, AK | Arizona, AZ | Arkansas, AR | California, CA | Colorado, CO | Connecticut, CT | Delaware, DE | Florida, FL | Georgia, GA | Hawaii, HI | Idaho, ID | Illinois, IL | Indiana, IN | Iowa, IA | Kansas, KS | Kentucky, KY | Louisiana, LA | Maine, ME | Maryland, MD | Massachusetts, MA | Michigan, MI | Minnesota, MN | Mississippi, MS | Missouri, MO | Montana, MT | Nebraska, NE | Nevada, NV | New Hampshire, NH | New Jersey, NJ | New Mexico, NM | New York, NY | North Carolina, NC | North Dakota, ND | Ohio, OH | Oklahoma, OK | Oregon, OR | Pennsylvania, PA | Rhode Island, RI | South Carolina, SC | South Dakota, SD | Tennessee, TN | Texas, TX | Utah, UT | Vermont, VT | Virginia, VA | Washington, WA | West Virginia, WV | Wisconsin, WI | Wyoming, WY

Countries, Territories and Provinces:

Malaysia, MY | Indonesia, ID | Antigua and Barbuda, AG | Bahamas, BS | Barbados, BB | Belize, BZ | British Virgin Islands, VG | Cayman Islands, KY | Dominican Republic, DO | Grenada, GD | Haiti, HT | Jamaica, JM | Montserrat, MS | Puerto Rico, PR | Saint Lucia, LC | Saint Vincent and the Grenadines, VC | Trinidad and Tobago, TT | Turks and Caicos Islands, TC | United States, US | US Virgin Islands, VI | Mexico, MX | Campeche, CM | Quintana Roo, QR | Yucatan, YU | Central and South America | Canada, CA | Alberta, AB | British Columbia, BC | Manitoba, MB | New Brunswick, NB | Newfoundland and Labrador, NL | Northwest Territories, NT | Nova Scotia, NS | Nunavut, NU | Ontario, ON | Prince Edward Island, PE | Quebec, QC | Saskatchewan, SK | Yukon, YT