Custom Heated Blanket
Industrial Heat Blanket
Custom heated blankets are a great choice for protecting against freezing for many industries and materials. Whether you're looking for tank, bulk storage or concrete industrial heating blankets, we can help maintain critical temperatures, provide freeze protection and optimize flow for viscous and temperature sensitive materials. Our power blankets are made in the USA for fast shipping, saving you time and money! Let us help you find the right industrial heat blanket for your job!
Potable Water Storage Tanks Variety
---
Water Tank Trailer Heater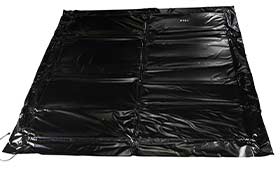 Check out our 525, 1010, and 1610 gallon water tank trailer heater. This durable, thermal blanket protects water and other fluids from freezing by keeping them at their perfect temperature, without overheating or burning. With its internal thermostat, the tank heater keeps your water trailer tank at a constant temperature throughout the cold weather, giving you greater access to fluids in your water trailer, tank or sprayer throughout the year.
Custom Tank Heater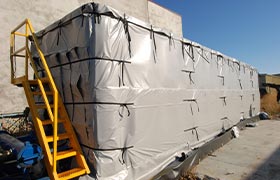 Custom tank heaters protect your fluids, chemicals, and fertilizer from freezing in extreme temperatures. We design custom blankets to precisely fit your tank, no matter what the size or type of tank. No matter what industry you work in, we can help you increase your production time and reduce your costs! We can modify a standard blanket heater or fully customize a power blanket to work for your particular job or site needs.
DEF Tank Heater Blanket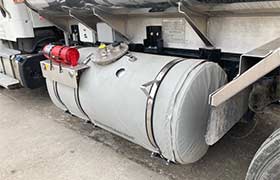 Diesel emissions fuel often freezes during the winter months making it hard to access. DEF tank heaters keep your diesel exhaust fuel at a consistent temperature so you can store or transport DEF. Our DEF tank heater prevents hot and cold spots, providing effective freeze protection for your DEF tanks. Heater blankets maintain stable temperatures, evenly heating your tanks and optimizing your DEF flow and access during extreme climates. We carry DEF heaters for smaller and larger storage tanks.
IBC Tote Warmer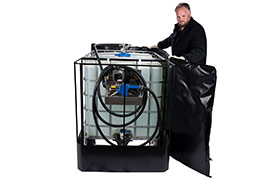 Our IBC tote warmer lets you store materials and chemicals during colder climates, protecting them against freezing and controlling viscosity. Keep chemicals and industrial supplies at their required temperatures with consistent, regulated heat distribution. Fully enclosed with cinch straps, our tote heaters are available for 250-gallon to 550-gallon totes. Keep fluids and materials at their optimal temperature with full-coverage heater blankets.
Pallet Heater Blanket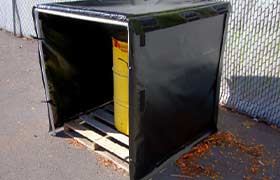 The pallet thermal heater is the ideal heating solution for job-site heating, warehouse, and temperature-sensitive material storage. Made to protect sensitive materials such as paints, chemicals, equipment, resins, roofing materials, and epoxies, against freezing. This insulated, full-wrap design keeps materials at a consistent temperature, ensuring reliable heating throughout. Water-resistant for indoor or outdoor use, our pallet heater blanket is equipped with cinch straps to secure pallet with a tight fit.
Propane Tank Heater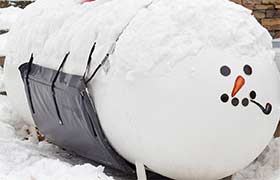 Propane tank heaters prevent tanks from having low pressure during in the winter months. Propane and other gases can't vaporize in colder temperatures, so you don't have access to them year round. Tank warmers maintain a uniform, even barrier across the entire tank, keeping tanks at their optimal pressure even in the most extreme temperatures.
Drum Heater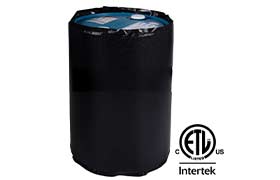 Our drum heater is perfect for keeping your drums and barrels from freezing during the winter months. This heater blanket delivers consistent, even heating throughout the entire drum with preset thermostat. We offer several sizes as well as custom blankets that fully enclose your drum or barrel to keep it at its optimal temperature range. The industrial drum heater is used with both poly and steel drums.
Concrete Curing Blanket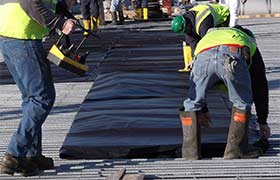 Cure concrete without experiencing delays in cold and harsh weather conditions. Our concrete heater blankets let you cure concrete in the coldest winters and hottest summers. Our curing blanket's design eliminates hot and cold spots for uniform, full-coverage heat across the entire concrete surface. Use our electric curing blankets to thaw ground before you pour concrete and then again, when you finish for complete freeze protection.
Ground Thawing Heater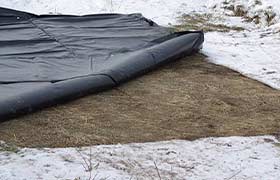 Ground too hard to pour concrete? Let us help you thaw frozen ground before pouring concrete with high-watt density, to remove frost. Our ground thawing heater melts snow and ice from walkways, roofs, and construction areas in the harshest weather conditions. No more waiting for the perfect temperatures to pour concrete.
Industrial Heat Blanket Applications
Industrial heat blankets are used in many industries to protect against freezing materials and fluids. Industries include: agriculture, construction, oil & gas, manufacturing, and diesel exhaust fluid (DEF). Our custom engineering can provide you with the freeze protection you need for your equipment or system, no matter what size or shape.
See our custom measurement guide and questionnaire pdf's for perfect fitting heating blankets.
Interested in our industrial heater blankets? We can help! Call us at 1-863-261-8388 or request a price quote.