---
Express 1600 Gallon Water Trailer
Heavy Duty Water Trailers - DOT Approved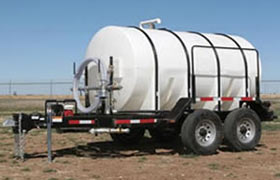 When hauling water for larger projects, a heavy-duty water trailer will allow you to cover a wide area. The Express 1600 Gallon Water Trailer is the perfect solution for these tasks, featuring DOT approval and a 5.5 HP Tsurumi aluminum pump with a Honda engine.
No Job Too Big
Whether your daily routine includes spraying horse arenas, watering ballfields, or spraying farms or construction sites, large water hauling trailers can be a big help. The largest tank in the fleet, the Express 1600 Gallon Water Trailer features a high strength poly tank and a 5.5 HP Honda engine, providing the ability to control the force and range of your water flow.
Some common uses for this trailer include:
• Spraying Construction Sites
• Spraying Horse Arenas
• Spraying Nurseries
• Watering Ballfields
• Filling Pools
• Spraying Farms
Electric Braking System
The Express 1600 Gallon Water Trailer features an electric braking system, allowing you to control the trailer's brakes from the tow vehicle and ease servicing. Electric brakes in water hauling trailers feature a lower cost for part replacement, easy installation of new parts, and are easier to maintain without the need for brake fluid. In addition to electric brakes, the Express 1600 Gallon Water Trailer offers several other features, such as DOT approval, allowing for use on public roads and a side wind jack which eases trailer lifting when attaching to the towing vehicle.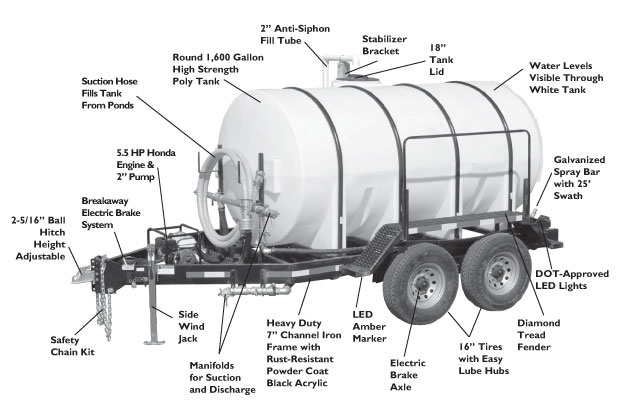 1600 Gallon Water Trailer Features:
• Diamond-Tread Fenders
• LED Lights (DOT Approved)
• Inlet and Outlet Manifold Kit
• 140 GPM with Galvanized Fittings
• 8' to 25' Adjustable Width Swath Spray Bar with Flood Nozzles


• Electric Brakes
• 2"x5.5 HP Tsurumi Aluminum Pump with Honda Engine
• For a complete listing of features:
Express 1600 gallon Water Trailer Specifications (pdf)

Simplify Filling of Your Heavy-Duty Water Trailer Tank
The Express 1600 Gallon Water Trailer can be easily filled from hydrants, ponds, or water pits for hauling water using the 20-foot suction hose. The two easy ways to fill your tank are: the 2" anti-siphon fill tube, and drawing water through the pump. Water levels are visible through the white exterior, keeping you aware of water availability at all times.
Additional Tank Sizes and Financing Available
We also offer the Express Water Trailer in the following sizes:
If you need a custom water trailer solution, please see our line of Argo water trailers by GEI Works.
---
© Copyright GEI Works 2011-2018. All rights reserved.
GEI Works is a global solutions provider offering our expertise and products to the following states, countries, territories and provinces:

States:

Alabama, AL | Alaska, AK | Arizona, AZ | Arkansas, AR | California, CA | Colorado, CO | Connecticut, CT | Delaware, DE | Florida, FL | Georgia, GA | Hawaii, HI | Idaho, ID | Illinois, IL | Indiana, IN | Iowa, IA | Kansas, KS | Kentucky, KY | Louisiana, LA | Maine, ME | Maryland, MD | Massachusetts, MA | Michigan, MI | Minnesota, MN | Mississippi, MS | Missouri, MO | Montana, MT | Nebraska, NE | Nevada, NV | New Hampshire, NH | New Jersey, NJ | New Mexico, NM | New York, NY | North Carolina, NC | North Dakota, ND | Ohio, OH | Oklahoma, OK | Oregon, OR | Pennsylvania, PA | Rhode Island, RI | South Carolina, SC | South Dakota, SD | Tennessee, TN | Texas, TX | Utah, UT | Vermont, VT | Virginia, VA | Washington, WA | West Virginia, WV | Wisconsin, WI | Wyoming, WY

Countries, Territories and Provinces:

Malaysia, MY | Indonesia, ID | Antigua and Barbuda, AG | Bahamas, BS | Barbados, BB | Belize, BZ | British Virgin Islands, VG | Cayman Islands, KY | Dominican Republic, DO | Grenada, GD | Haiti, HT | Jamaica, JM | Montserrat, MS | Puerto Rico, PR | Saint Lucia, LC | Saint Vincent and the Grenadines, VC | Trinidad and Tobago, TT | Turks and Caicos Islands, TC | United States, US | US Virgin Islands, VI | Mexico, MX | Campeche, CM | Quintana Roo, QR | Yucatan, YU | Central and South America | Canada, CA | Alberta, AB | British Columbia, BC | Manitoba, MB | New Brunswick, NB | Newfoundland and Labrador, NL | Northwest Territories, NT | Nova Scotia, NS | Nunavut, NU | Ontario, ON | Prince Edward Island, PE | Quebec, QC | Saskatchewan, SK | Yukon, YT