Portable Water Storage
Water Trailers, Tanks, and Sprayers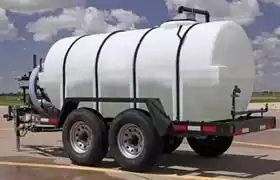 Portable water storage tanks are designed for easy liquid transportation. Offering a wide range of water trailers, towable water tanks, and sprayers, our water tanks are ideal for water transport and storage on any farm, commercial facility, arena, and recreational area. The portable water storage tanks and water trailers are constructed from a sturdy polyethylene (plastic) design that resists rust and corrosion while successfully holding water within the tank.
Please feel free to browse through our towable water tank options below or contact us with any questions at 1-863-261-8388.
*Ask us about our special financing options!
A Variety of Portable Water Trailer Options
Featured Trailers
---
Portable Water Tank Trailers
One of the most common options for water transportation is our Portable Water Storage Trailer. Designed as a complete unit, our towable water tanks include all of the components required for a successful spray job.
Portable Water Storage Trailer System Components:
Polyethylene Storage Tank
Robust Water Trailer
Surge or Electrical Brakes
4 HP Honda Engine
Pump
Suction Hose
Spray Bar
Portable Water Storage Applications
DOT Water Trailers for Sale
Arena Sprayers, Fire Control Water Trailers, and De-icers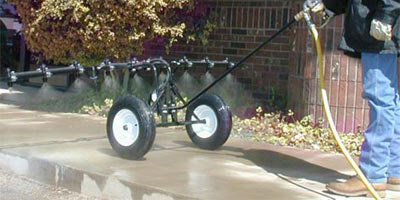 Our water tank trailers are designed with the size and strength to handle large volumes of water including:
Arena Sprayers
Fire Suppression Trailers
Dust Suppression Trailers
De-icers
Our towable water tanks each work to individually target a specific spray job, need or liquid storage requirement.
Small Skid Sprayers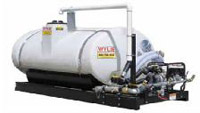 Small skid sprayers are perfect for spot areas and quick watering jobs around your job site, home or farm. Skid sprayers are typically designed in 50 or 100 gallon models to address smaller jobs around residential communities. Most will fit in the back of UTVs or other small vehicles for ease of transportation. Options include:
50 or 100 Gallon Skid Sprayers
UTV Sprayers
Plastic Water Tanks and Pickup Truck Tanks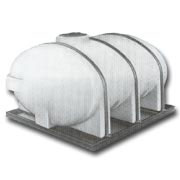 Looking for an individual transportation tank? Portable pickup truck and transportation water tanks are also available. These water tanks are low in profile for ease of transportation and increased stability. Options include the following:
Elliptical Tanks
Horizontal Sump Tanks
Plastic Leg Tanks
Regardless of your method of transportation the perfect portable water tank trailer or sprayer is only a click away!
Portable Plastic Poly Tanks
Questions about towable water tanks? We can help! Call us at 1-863-261-8388 or request a price quote.