Water Trailer Blanket Heater
Water Tank Heater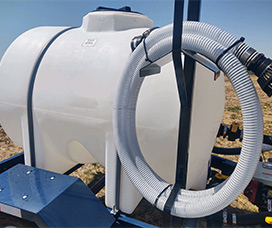 Our water trailer blanket heaters are designed to protect your trailer tanks from freezing during the winter. Because cold weather affects water, chemicals and other fluids, you may not be able to access your liquids throughout the colder months. This can lead to lost time and additional costs during your downtime. Our water tank heaters, with their internal thermostat, are a great solution for keeping your water trailer tank at a constant temperature and preventing freezing in extreme conditions. We have 525, 1010, and 1610 gallon trailer heaters ready to ship, and can customize thermal blankets to meet specific trailer, sprayer or tank needs, no matter the size or shape. Call us to find the perfect thermal blanket for your water trailer!

Questions about tank blanket heaters ? We can help! Call us at 1-863-261-8388 or request a price quote.
Water Trailer Blankets
Water trailer blankets are essential in protecting trailer tanks from freezing across multiple industries including water storage, agriculture, construction, dust control and landscaping. Water tank heater pads are perfect for providing freeze protection, maintaining tank temperature, and optimizing the flow of your water and other liquids. We can help reduce your downtime during the winter months and supply effective freeze protection for your tanks even in extreme climates up to -40 °F.
While your tank is fully enclosed by the water trailer blanket, its insulated top and flap give you easy access to your tank. Our power blankets are waterproof and safe to use indoors or outdoors! Water tank heaters can be customized to precisely fit your trailer tank, sprayer, or even large storage tanks. Made in the US, we are able to ship faster and for less, saving you time and money.
---
Water Tank Heater Features
Prevents freezing of water, chemicals, and other fluids
Maintains constant temperature
Safe for -40 °F
Fully enclosed
Insulated top and flap
Can custom fit for any trailer, sprayer or tank
Eliminates downtime
Cost effective
1 year manufacture warranty
Water Tank Heater Specs
TANK SIZE
525 GALLON
1010 GALLON
1610 GALLON
BLANKET SIZE
49'' Diameter X 55'' Tall, Cylinder
47'' Diameter X 126'' Long, Cylinder
53'' Diameter by 125'' Long, Cylinder
TARGET TEMPERATURE
90 Deg F, 32 Deg C
90 Deg F, 32 Deg C
90 Deg F, 32 Deg C
INTERNAL THERMOSTAT
50C (122F)
50C (122F)
50C (122F)
CONTENT TEMPERATURE
92 - 122º F
(33 - 50 Deg C)
92 - 122 Deg F
(33 - 50 Deg C)
92 - 122 Deg F
(33 - 50 Deg C)
VINYL TYPE
D-15 black vinyl
D-15 black vinyl
D-15 black vinyl
CORD LENGTH
15 Feet
15 Feet
15 Feet
VOLTAGE
120 VAC
120 VAC (240 on request)
120 VAC (240 on request)
PLUG
NEMA 5-15
NEMA 5-15
NEMA 5-15
HEATED BLANKETS
2
3
3
*Fits 525 AquaDOT gallon, 1010 AquaDOT gallon , and 1620 AquaDOT water trailers. Customized trailer and large tank heaters are available upon request.
Water Trailer Blanket Heater Uses
Our tank blanket heaters have a variety of uses across many industries. Our customized power blanket can give you the peace of mind you want during the colder months, increasing your production time and reducing your costs! Our thermal blankets are used for:
Chemical Manufacturing
Agriculture and Dairy
Oil and Gas
DEF Tanks
Industrial Tanks
Food Processing Plants
Mining
and more…
Custom heater blankets can be also be used for in food processing water, chemical processing, frac water and more. Check our Water Trailer Tank Heater (pdf) for mor details.
Looking for other water trailers, sprayers or larger tanks? We have a huge variety of tanks available. Call one of our specialist to find the tank you need or visit water storage containers!
© Copyright Water Storage Containers 2011-2023. All rights reserved.
Water Storage Containers is a global solutions provider offering our expertise and products to the following states, countries, territories and provinces:

States:

Alabama, AL | Alaska, AK | Arizona, AZ | Arkansas, AR | California, CA | Colorado, CO | Connecticut, CT | Delaware, DE | Florida, FL | Georgia, GA | Hawaii, HI | Idaho, ID | Illinois, IL | Indiana, IN | Iowa, IA | Kansas, KS | Kentucky, KY | Louisiana, LA | Maine, ME | Maryland, MD | Massachusetts, MA | Michigan, MI | Minnesota, MN | Mississippi, MS | Missouri, MO | Montana, MT | Nebraska, NE | Nevada, NV | New Hampshire, NH | New Jersey, NJ | New Mexico, NM | New York, NY | North Carolina, NC | North Dakota, ND | Ohio, OH | Oklahoma, OK | Oregon, OR | Pennsylvania, PA | Rhode Island, RI | South Carolina, SC | South Dakota, SD | Tennessee, TN | Texas, TX | Utah, UT | Vermont, VT | Virginia, VA | Washington, WA | West Virginia, WV | Wisconsin, WI | Wyoming, WY

Countries, Territories and Provinces:

Malaysia, MY | Indonesia, ID | Antigua and Barbuda, AG | Bahamas, BS | Barbados, BB | Belize, BZ | British Virgin Islands, VG | Cayman Islands, KY | Dominican Republic, DO | Grenada, GD | Haiti, HT | Jamaica, JM | Montserrat, MS | Puerto Rico, PR | Saint Lucia, LC | Saint Vincent and the Grenadines, VC | Trinidad and Tobago, TT | Turks and Caicos Islands, TC | United States, US | US Virgin Islands, VI | Mexico, MX | Campeche, CM | Quintana Roo, QR | Yucatan, YU | Central and South America | Canada, CA | Alberta, AB | British Columbia, BC | Manitoba, MB | New Brunswick, NB | Newfoundland and Labrador, NL | Northwest Territories, NT | Nova Scotia, NS | Nunavut, NU | Ontario, ON | Prince Edward Island, PE | Quebec, QC | Saskatchewan, SK | Yukon, YT
© Copyright Water Storage Containers 2011-2023. All rights reserved.
Water Storage Containers is a global solutions provider offering our expertise and products to the following states, countries, territories and provinces:

States:

Alabama, AL | Alaska, AK | Arizona, AZ | Arkansas, AR | California, CA | Colorado, CO | Connecticut, CT | Delaware, DE | Florida, FL | Georgia, GA | Hawaii, HI | Idaho, ID | Illinois, IL | Indiana, IN | Iowa, IA | Kansas, KS | Kentucky, KY | Louisiana, LA | Maine, ME | Maryland, MD | Massachusetts, MA | Michigan, MI | Minnesota, MN | Mississippi, MS | Missouri, MO | Montana, MT | Nebraska, NE | Nevada, NV | New Hampshire, NH | New Jersey, NJ | New Mexico, NM | New York, NY | North Carolina, NC | North Dakota, ND | Ohio, OH | Oklahoma, OK | Oregon, OR | Pennsylvania, PA | Rhode Island, RI | South Carolina, SC | South Dakota, SD | Tennessee, TN | Texas, TX | Utah, UT | Vermont, VT | Virginia, VA | Washington, WA | West Virginia, WV | Wisconsin, WI | Wyoming, WY

Countries, Territories and Provinces:

Malaysia, MY | Indonesia, ID | Antigua and Barbuda, AG | Bahamas, BS | Barbados, BB | Belize, BZ | British Virgin Islands, VG | Cayman Islands, KY | Dominican Republic, DO | Grenada, GD | Haiti, HT | Jamaica, JM | Montserrat, MS | Puerto Rico, PR | Saint Lucia, LC | Saint Vincent and the Grenadines, VC | Trinidad and Tobago, TT | Turks and Caicos Islands, TC | United States, US | US Virgin Islands, VI | Mexico, MX | Campeche, CM | Quintana Roo, QR | Yucatan, YU | Central and South America | Canada, CA | Alberta, AB | British Columbia, BC | Manitoba, MB | New Brunswick, NB | Newfoundland and Labrador, NL | Northwest Territories, NT | Nova Scotia, NS | Nunavut, NU | Ontario, ON | Prince Edward Island, PE | Quebec, QC | Saskatchewan, SK | Yukon, YT