Propane Tank Blanket
Gas Tank Heater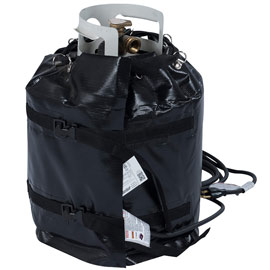 Our propane tank blankets are created to give uniform heat for your entire tank. Because gas cannot vaporize in colder weather due to lower pressure, your gas is not available to you. Our gas tank heaters increase your tank's efficiency by providing constant, stable heat to maintain tank pressure.
With our unique, even heating, you can fill tanks less often, saving you money! Available in a variety of sizes, we offer blankets in three thermal ratings for different range of temperatures from -20 F to -40 F. Made in the US, your delivery time is faster, saving you time and money. Call us today for more information and pricing!

Questions about propane tank heaters ? We can help! Call us at 1-863-261-8388 or request a price quote.
Propane Heat Blanket
A uniform barrier is wrapped around your tank, preventing hot and cold spots. Our propane heat blanket evenly distributes heat throughout your tank, keeping the pressure steady. The heater for propane tanks has an insulated layer, preventing the outside from getting hot to the touch. Safe for indoor or outdoor use, our tank heater blankets are ideal for propane, butane, nitrogen, oxygen and other compressed gases during the coldest months.
Operating at 120 volts, our unique design eliminates temperature fluctuation by ensuring uniform coverage over the entire surface. We have many sizes to choose from, with tank heaters from 20 lbs. up to 1000 lbs. Whether you need small propane tanks or larger tanks often used by oil and gas companies for frac water heating, our exceptional heating process ensures uninterrupted access to your gas.
Propane Blanket Features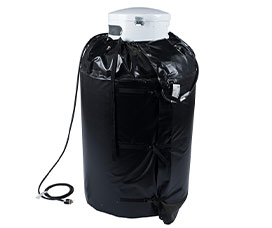 Keeps propane and gas optimal temperatures
Quickly heats to preset 90º F / 32º C
Uniform heat barrier
Ensures proper vaporization
Full-wrap design
Safe for -20 to -40 °F

Ensure longer, more efficient tank life
Water resistant
Safe for outdoor use
Easy installation
Increases efficiency
Made in the US
Faster delivery
---
Propane Heat Blanket Specs
Thermal Rating
20 LBS
30 LBS
40 LBS
100 LBS
420 LBS
500 LBS
1000 LBS
Blanket Size
12.2" D x 18" H,
12.5" Dx18" H
45" L x 20" H,
45" L x 26" H
45" L x 33" H
52" L x 50" H
104" L x 53" H
40" L x 52" H
100" L x 41.5" H
Temperature
90º F (± 10º F) /
32ºC (± 5º C)
90º F (± 10º F) /
32ºC (± 5º C)
90º F (± 10º F) /
32ºC (± 5º C)
90º F (± 10º F) /
32ºC (± 5º C)
90º F (± 10º F) /
32ºC (± 5º C)
100°F/
38°C ± (10°F/5°C)
100°F/
38°C ± (10°F/5°C)
Heated area
6.25 sq ft
6.25 sq ft
10.31 sq ft
18.06 sq ft
38.28 sq ft
14.44 sq ft
28.82 sq ft
Cord Length
15 Feet
15 Feet
15 Feet
15 Feet
15 Feet
15 Feet
15 Feet
Voltage
120 VAC
120 VAC
120 VAC
120 VAC
120 VAC
120 VAC
120 C
Custom sizes, and lite and extreme thermal ratings are available.
Propane Heat Blanket Uses
Propane tank heater blankets are used in many industries, with a variety of gases including: propane, butane, nitrogen, oxygen and other compressed gases. Our full-wrap thermal heater gives you a tightly wrapped tank with a snug fit and easy installation. These propane heat blankets maintain the ideal temperature for your tank, reducing pressure fluctuation. Whether you need propane access with small or large tanks, we can help make sure you have maximum efficiency from your tank in even the most extreme temperatures!
Gas tank heaters are used across many industries, including:
Construction
Fracking
Industrial Uses
Oil and Gas
Medical
Science
Chemical
Manufacturing
Engineering and more…
Check out all of our blanket heaters, water storage solutions, and other products on by speaking with one of our specialists. We can help you find exactly what you need for your specific tank!
© Copyright Water Storage Containers 2011-2023. All rights reserved.
Water Storage Containers is a global solutions provider offering our expertise and products to the following states, countries, territories and provinces:

States:

Alabama, AL | Alaska, AK | Arizona, AZ | Arkansas, AR | California, CA | Colorado, CO | Connecticut, CT | Delaware, DE | Florida, FL | Georgia, GA | Hawaii, HI | Idaho, ID | Illinois, IL | Indiana, IN | Iowa, IA | Kansas, KS | Kentucky, KY | Louisiana, LA | Maine, ME | Maryland, MD | Massachusetts, MA | Michigan, MI | Minnesota, MN | Mississippi, MS | Missouri, MO | Montana, MT | Nebraska, NE | Nevada, NV | New Hampshire, NH | New Jersey, NJ | New Mexico, NM | New York, NY | North Carolina, NC | North Dakota, ND | Ohio, OH | Oklahoma, OK | Oregon, OR | Pennsylvania, PA | Rhode Island, RI | South Carolina, SC | South Dakota, SD | Tennessee, TN | Texas, TX | Utah, UT | Vermont, VT | Virginia, VA | Washington, WA | West Virginia, WV | Wisconsin, WI | Wyoming, WY

Countries, Territories and Provinces:

Malaysia, MY | Indonesia, ID | Antigua and Barbuda, AG | Bahamas, BS | Barbados, BB | Belize, BZ | British Virgin Islands, VG | Cayman Islands, KY | Dominican Republic, DO | Grenada, GD | Haiti, HT | Jamaica, JM | Montserrat, MS | Puerto Rico, PR | Saint Lucia, LC | Saint Vincent and the Grenadines, VC | Trinidad and Tobago, TT | Turks and Caicos Islands, TC | United States, US | US Virgin Islands, VI | Mexico, MX | Campeche, CM | Quintana Roo, QR | Yucatan, YU | Central and South America | Canada, CA | Alberta, AB | British Columbia, BC | Manitoba, MB | New Brunswick, NB | Newfoundland and Labrador, NL | Northwest Territories, NT | Nova Scotia, NS | Nunavut, NU | Ontario, ON | Prince Edward Island, PE | Quebec, QC | Saskatchewan, SK | Yukon, YT
© Copyright Water Storage Containers 2011-2023. All rights reserved.
Water Storage Containers is a global solutions provider offering our expertise and products to the following states, countries, territories and provinces:

States:

Alabama, AL | Alaska, AK | Arizona, AZ | Arkansas, AR | California, CA | Colorado, CO | Connecticut, CT | Delaware, DE | Florida, FL | Georgia, GA | Hawaii, HI | Idaho, ID | Illinois, IL | Indiana, IN | Iowa, IA | Kansas, KS | Kentucky, KY | Louisiana, LA | Maine, ME | Maryland, MD | Massachusetts, MA | Michigan, MI | Minnesota, MN | Mississippi, MS | Missouri, MO | Montana, MT | Nebraska, NE | Nevada, NV | New Hampshire, NH | New Jersey, NJ | New Mexico, NM | New York, NY | North Carolina, NC | North Dakota, ND | Ohio, OH | Oklahoma, OK | Oregon, OR | Pennsylvania, PA | Rhode Island, RI | South Carolina, SC | South Dakota, SD | Tennessee, TN | Texas, TX | Utah, UT | Vermont, VT | Virginia, VA | Washington, WA | West Virginia, WV | Wisconsin, WI | Wyoming, WY

Countries, Territories and Provinces:

Malaysia, MY | Indonesia, ID | Antigua and Barbuda, AG | Bahamas, BS | Barbados, BB | Belize, BZ | British Virgin Islands, VG | Cayman Islands, KY | Dominican Republic, DO | Grenada, GD | Haiti, HT | Jamaica, JM | Montserrat, MS | Puerto Rico, PR | Saint Lucia, LC | Saint Vincent and the Grenadines, VC | Trinidad and Tobago, TT | Turks and Caicos Islands, TC | United States, US | US Virgin Islands, VI | Mexico, MX | Campeche, CM | Quintana Roo, QR | Yucatan, YU | Central and South America | Canada, CA | Alberta, AB | British Columbia, BC | Manitoba, MB | New Brunswick, NB | Newfoundland and Labrador, NL | Northwest Territories, NT | Nova Scotia, NS | Nunavut, NU | Ontario, ON | Prince Edward Island, PE | Quebec, QC | Saskatchewan, SK | Yukon, YT