Thermal Pallet Cover Blanket
Insulated Pallet Blanket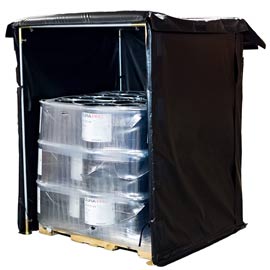 Thermal pallet cover blankets are the ideal heating solution for storing your materials. Whether it's for job-site heating, remote-locations, or transporting temperature-sensitive material, our insulated pallet blanket helps store your chemicals, protects against freezing, and controls viscosity. Keeping your products between 100°F and 120°F, our thermal pallet cover ensures your bulk materials stay within the specified temperature needed. We also offer an adjustable thermostat, so you can control your own box temperatures.
Power blanket hotboxes are the perfect solution for cold weather storage, heating job sites, transporting materials, and other heating requirements. The insulated, full-wrap design is water-resistant, easy to assemble and move wherever you need it. Made in the US, thermal pallet covers ship faster, saving you both time and money. Call us today for more information and pricing!

Questions about Concrete Thermal Blankets ? We can help! Call us at 1-863-261-8388 or request a price quote.
Thermal Pallet Blanket
Engineered with cutting-edge technology, our pallet blanket boxes help you store chemicals, protect against freezing, and control viscosity. This industrial hotbox is great for heating sensitive materials such as equipment, paints, chemicals, resins, roofing materials, epoxies, and pallets for a variety of materials. Our full-wrap, insulated blanket is water-resistant and comes with cinch straps to secure your hotbox with a tight fit.
Operating at 120 volts, our unique design eliminates temperature fluctuations, preventing hot and cold spots. Advanced technology spreads heat evenly for uniform coverage over the entire surface. Available in 3 sizes, the heated power blanket gives you access from the top and both sides. The hotbox is made with a durable, vinyl shell, and is easy to assemble for portability and storage. You can move materials from job to job for cold weather storage, use for freeze protection or job site heating, and even use for remote locations.
---
Power Blanket Hotbox Features

Maintains Internal Temperature as High as 120°F
Preserves Temperature Sensitive Materials
Improves Freeze Protection
Prevents Scorching and Burning
Provides Insulated Full-wrap Design
Top And Side Access Doors

Easy To Assemble and Disassemble
Custom Sizes Available
ETL Certified to UL & CSA Safety Standards
Cost Effective
Made in the USA
Insulated Pallet Blanket Specs
| | | | |
| --- | --- | --- | --- |
| Size | 48"X 36"X 48" | 48" X 40" X 48" | 48" X 48" X 48" |
| HEATED DIMENSIONS | 48"X 36"X 48" | 48" X 40" X 48" | 48" X 48" X 48" |
| Finished Dimensions | 48"X 36"X 48" | 48" X 40" X 48" | 48" X 48" X 48" |
| Content Temperature | Preset | Preset | Preset |
| Heated Area | 48 cu. ft. | 54 cu. ft. | 64 cu. ft. |
| Cord Length | 6 ft. | 6 ft. | 6 ft. |
| Voltage | 120 VAC | 120 VAC | 120 VAC |
| WATTAGE | 800W/1200W | 800W/1200W | 1440W |
| Plug | 15 AMP | 15 AMP | 15 AMP |
| Approx Weight | 40 lbs./50 lbs | 43lbs./50 lbs. | 73 lbs./75 lbs. |
*Custom sizes available upon request
Thermal Pallet Blanket Uses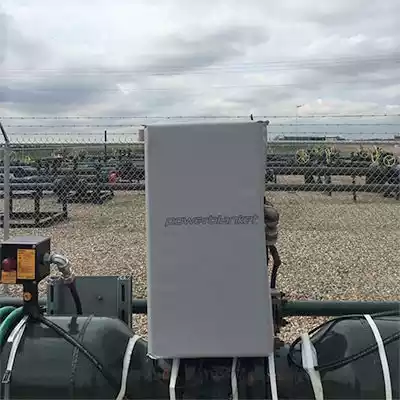 Our thermal pallet blankets have a wide variety of uses across many industries for bulk material heating. Because our insulated pallet blankets eliminate hot and cold spots, you can be sure you have full-coverage heat for your entire container surface. This consistent, even heat ensures proper viscosity of materials and keeps materials at a specified temperature range. Available in various sizes, our blankets can be used for paint, resins and epoxies, roofing materials, and much more without heating up your building or storage area.
Our industrial hot box can be used for:
Freeze Protection
Job-Site Heating
Remote Location Uses
Cold Weather Storage
Transporting Materials
Other Heat-Related Material Requirements
Find out more about our Thermal Pallet Blankets, as well as our other power blanket heater products. We can help you find exactly what you need for your specific job! Talk with one of our specialists today!
© Copyright Water Storage Containers 2011-2023. All rights reserved.
Water Storage Containers is a global solutions provider offering our expertise and products to the following states, countries, territories and provinces:

States:

Alabama, AL | Alaska, AK | Arizona, AZ | Arkansas, AR | California, CA | Colorado, CO | Connecticut, CT | Delaware, DE | Florida, FL | Georgia, GA | Hawaii, HI | Idaho, ID | Illinois, IL | Indiana, IN | Iowa, IA | Kansas, KS | Kentucky, KY | Louisiana, LA | Maine, ME | Maryland, MD | Massachusetts, MA | Michigan, MI | Minnesota, MN | Mississippi, MS | Missouri, MO | Montana, MT | Nebraska, NE | Nevada, NV | New Hampshire, NH | New Jersey, NJ | New Mexico, NM | New York, NY | North Carolina, NC | North Dakota, ND | Ohio, OH | Oklahoma, OK | Oregon, OR | Pennsylvania, PA | Rhode Island, RI | South Carolina, SC | South Dakota, SD | Tennessee, TN | Texas, TX | Utah, UT | Vermont, VT | Virginia, VA | Washington, WA | West Virginia, WV | Wisconsin, WI | Wyoming, WY

Countries, Territories and Provinces:

Malaysia, MY | Indonesia, ID | Antigua and Barbuda, AG | Bahamas, BS | Barbados, BB | Belize, BZ | British Virgin Islands, VG | Cayman Islands, KY | Dominican Republic, DO | Grenada, GD | Haiti, HT | Jamaica, JM | Montserrat, MS | Puerto Rico, PR | Saint Lucia, LC | Saint Vincent and the Grenadines, VC | Trinidad and Tobago, TT | Turks and Caicos Islands, TC | United States, US | US Virgin Islands, VI | Mexico, MX | Campeche, CM | Quintana Roo, QR | Yucatan, YU | Central and South America | Canada, CA | Alberta, AB | British Columbia, BC | Manitoba, MB | New Brunswick, NB | Newfoundland and Labrador, NL | Northwest Territories, NT | Nova Scotia, NS | Nunavut, NU | Ontario, ON | Prince Edward Island, PE | Quebec, QC | Saskatchewan, SK | Yukon, YT
© Copyright Water Storage Containers 2011-2023. All rights reserved.
Water Storage Containers is a global solutions provider offering our expertise and products to the following states, countries, territories and provinces:

States:

Alabama, AL | Alaska, AK | Arizona, AZ | Arkansas, AR | California, CA | Colorado, CO | Connecticut, CT | Delaware, DE | Florida, FL | Georgia, GA | Hawaii, HI | Idaho, ID | Illinois, IL | Indiana, IN | Iowa, IA | Kansas, KS | Kentucky, KY | Louisiana, LA | Maine, ME | Maryland, MD | Massachusetts, MA | Michigan, MI | Minnesota, MN | Mississippi, MS | Missouri, MO | Montana, MT | Nebraska, NE | Nevada, NV | New Hampshire, NH | New Jersey, NJ | New Mexico, NM | New York, NY | North Carolina, NC | North Dakota, ND | Ohio, OH | Oklahoma, OK | Oregon, OR | Pennsylvania, PA | Rhode Island, RI | South Carolina, SC | South Dakota, SD | Tennessee, TN | Texas, TX | Utah, UT | Vermont, VT | Virginia, VA | Washington, WA | West Virginia, WV | Wisconsin, WI | Wyoming, WY

Countries, Territories and Provinces:

Malaysia, MY | Indonesia, ID | Antigua and Barbuda, AG | Bahamas, BS | Barbados, BB | Belize, BZ | British Virgin Islands, VG | Cayman Islands, KY | Dominican Republic, DO | Grenada, GD | Haiti, HT | Jamaica, JM | Montserrat, MS | Puerto Rico, PR | Saint Lucia, LC | Saint Vincent and the Grenadines, VC | Trinidad and Tobago, TT | Turks and Caicos Islands, TC | United States, US | US Virgin Islands, VI | Mexico, MX | Campeche, CM | Quintana Roo, QR | Yucatan, YU | Central and South America | Canada, CA | Alberta, AB | British Columbia, BC | Manitoba, MB | New Brunswick, NB | Newfoundland and Labrador, NL | Northwest Territories, NT | Nova Scotia, NS | Nunavut, NU | Ontario, ON | Prince Edward Island, PE | Quebec, QC | Saskatchewan, SK | Yukon, YT