Agricultural Trailers For Sale
The Efficient and Economical Nurse Trailer for Sale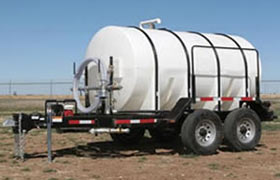 The Agricultural Nurse Trailer will allow you to seamlessly transport water and fertilizer around your farm. The large capacity will help to avoid multiple trips to refill your tank as you go about your daily tasks.
Agricultural water trailers allow for the safe and efficient transportation of water and fertilizer around your farm. This ag sprayer trailer can be fitted with a choice of tank sizes, including: 500, 800, 1000, and 1600 gallon sizes. With a robust package of features, the nurse trailer will help you water and protect your crops from weeds and pests, as well as carry the necessary amount of water for crop irrigation and watering livestock.

If you have questions about the agricultural nurse trailer, give us a call at 1-863-261-8388 or request a price quote.
An Agricultural Nurse Trailer That Can Handle the Job
Our farm water trailer includes a high-strength polyethylene tank and a channel frame to stand up to the rigors of farm use. It features an 8 to 25-foot swath spray bar to water as you go and a 25-foot fire hose to reach any area of your farm. The Tsurumi aluminum pump and Honda engine will allow you to control the range and flow of your water output, fertilizer, or other liquid solutions to ensure your farm continues running smoothly. The adjustable ball hitch enables the nurse trailer to attach to a tractor and the LED lights and fenders are DOT compliant, allowing for operation on public roadways.
Select Your Nurse Tank Size
Nurse water trailers are available in several sizes. Please select the tank size for detailed product information and features.
Whether your water trailer has surge brakes or electric brakes is determined by several factors, incluging the size and style of trailer. Our sales team will help you pick the right nurse trailer for sale for your needs.

If you have questions about a nurse trailer, give us a call at 1-863-261-8388 or request a price quote.
Common Nurse Trailer Applications
Irrigate Crops and Water Livestock
Apply Fertilizer to Provide Nutrients for Soil
Protect Crops from Weeds and Pests
Pesticide/Herbicide Application
Easy Filling and Draining of Your Farm Water TrailerTank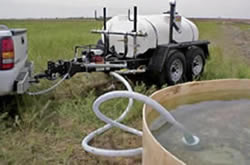 This nurse trailer features a 20-foot anti-siphon fill hose for quick filling from a pond or watering hole. The round tank is equipped with a sump bottom, allowing for rapid and easy draining so you can quickly move on with your work.There are two ways to fill your tank:
Through the Anti-Siphon Fill Tube
Drawing Water Through the Pump
For freeze protection for your water trailer or skid, our Water Trailer Heater Blankets are exactly what you need . When cold weather affects the viscosity of fuel, fluids, and other materials you can lose production time, adding additional costs. Power blankets keep your tanks and smaller corrugated/steel tanks at constant temperature, preventing fluids from freezing in extreme conditions. We customize thermal blankets to meet your specific needs, no matter the tank size or shape. Call us today to find out more!
Did you know? We also carry a full line of water tanks for your farm's water and liquid storage needs.

If you have questions about the nurse trailer, give us a call at 1-863-261-8388 or request a price quote.