Dustkiller Truck Bed Sprayer
Truck Bed Skid Sprayer Equipment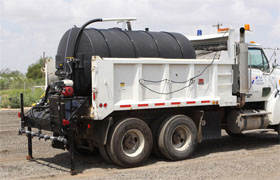 With the Dustkiller truck bed sprayer you can turn a dump truck into a water truck or dust control truck. The Dustkiller auto-skid will slide easily into and out of the bed of most dump trucks without any lifting. Easy to load and unload, the Dustkiller auto-skid comes in 1025, 1250, and 1600 gallon capacities. The galvanized spray bar on the back of the truck bed sprayer has a swath of 25'.
The truck bed sprayer is available with a spray bar, centrifugal pump, and fire hose to give you the opportunity to accomplish a great number of applications and operations. Whether you're working on a construction site, need dust control measures, or have a roadbed compaction project, the Dustkiller auto-skid will give you a variety of tools to help you with a number of different projects. The truck bed skid sits on a 6" channel iron frame and has self-folding front legs. The tanks are covered by steel eyelet tiedowns. For more information on the other skid sprayers and trailers we offer, see our portable water storage options and the water trailer overview page.

When it comes to dump truck equipment, this Dustkiller auto-skid is easy to load, makes any dump truck into a multi purpose water truck, and can fit into any application. Interested in more details? Give our sales team a call at 1-863-261-8388 or submit a webform to request a price quote.
Looking for other features? We have an assortment of water trailer vendors with an extensive offering of styles, sizes, and components at exceptional pricing. All capacities listed are for use with water storage. We ship from warehouses across the U.S. and our team will work with you to provide the equipment that fits your needs, delivered within the time frame that you need it. Contact Us for information on other liquid storage options.
Financing options available!
Dustkiller Truck Bed Sprayer Features & Details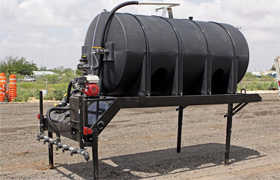 The Dustkiller truck bed sprayer can feature a variety of gallon capacities. 1000, 1025, 1250, or 1600 gallon capacity tanks will sit on a frame of 6" channel iron and will be secured with steel eyelet tiedowns. The tanks themselves are made of black poly, which prevents algae growth inside the tank. Each truck bed skid tank is equipped with a side fillwell for easy servicing. Inside the tank are partial baffles to control and minimize the movement of the liquid inside the tank. The self-folding front legs of the truck bed sprayer make loading and unloading quite easy. The back of the truck bed skid features the galvanized spray bar, which covers a 25' swath. The truck bed sprayer has a Banjo pump powered by a Honda engine.
1000, 1025, 1250, 1600 Gallon Capacities
6" Channel Iron Frame
25' Swath Galvanized Spray Bar
Black, Algae Resistant Poly Tank
Dustkiller Truck Bed Sprayer Benefits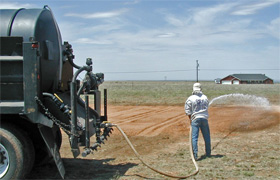 Dustkiller truck bed sprayer has a multitude of benefits. The truck bed sprayer's ease of use when loading and unloading make it great for construction companies and DOTs and others in need of a removable truck mounted sprayer auto-skid. The truck bed sprayer can be used as a dust control truck or as a water truck, making it super versatile.
USA Made
Durable, Reliable Water Storage
Dust Control or Water Truck
Easy Load and Unload
Truck Bed Sprayer Auto-Skid Specifications
Below you'll find specifications for the Dustkiller Truck Bed Sprayer Auto-skid. Find information on the 1000, 1025, 1250, and 1600 gallon capacity.
Tank
Engine/Pump
Trailer
Dimensions
Additional Features
1000, 1025, 1250, and 1600 Gallon Potable Water Tank, Algae Resistant
4 Hp Honda Engine
2" Banjo Pump
6" Channel Iron Frame
DOT Compliant
Surge Brakes
Tandem Leaf Spring Axles
St225/75d15 Tires
2" Ball Adjustable Height Hitch
Diamond Tread Fenders
1000 Gallon - 77" W x 99" L - 1900 lb Tare Weight

1025 Gallon - 55" W x 144" L - 1,900 lb Tare Weight

1250/1600 Gallon - 75" W x 133" L - 2,000/2,150 lb Tare Weight
Anti-Siphon Fill
Galvanized Manifold
Suction Hose
Pond Strainer
Fire Hose
Hose Reel
Fire Nozzle
Electric Brakes
If you'd like more information on skid sprayers, you can check out our skid sprayer page. Or, if you're interested in another product, please don't hesitate to give our sales team a call at 1-863-261-8388.
Dump Truck Equipment Applications
The great thing about the Dustkiller auto-skid is that it can be used in a variety applications and ways. Many companies and groups can benefit from having a truck bed sprayer. Construction companies needing dust control or DOTs needing help with roadbed compaction will also benefit. Because of its removeable nature, any dump truck can be turned into a truck bed sprayer. From dust control, roadbed compaction, and watering remote landscape, you'll struggle to find something that the Dustkiller auto-skid isn't great for. You can also use it for fighting the occasional grass fire. For a deicing version of the truck bed sprayer, ask our sales team about the Ice Blitzer.
Note: If you're looking for a water trailer with virtually unlimited customizable options, our Water Trailers may be the answer.
For freeze protection for your water trailer or skid, our Water Trailer Heater Blankets are exactly what you need . When cold weather affects the viscosity of fuel, fluids, and other materials you can lose production time, adding additional costs. Power blankets keep your tanks and smaller corrugated/steel tanks at constant temperature, preventing fluids from freezing in extreme conditions. We customize thermal blankets to meet your specific needs, no matter the tank size or shape. Call us today to find out more!
You can also view all our water trailers on the Portable Water Tank Trailer main page.
Customer who viewed this product, also viewed:
We're ready to get you everything you need in regard to the Dustkiller truck bed sprayer. If you're ready for pricing, give our sales team a call at 1-863-261-8388 or submit a web form to request a price quote.