Emergency Drinking Water Storage
Elliptical Poly Tank for Emergency Water Storage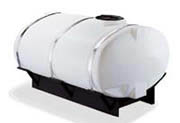 Emergency Drinking Water Storage Tanks are a low profile water transportation tank used around farms, nurseries and other rural areas where frequent water transport is required. Built with robust fabric materials, these elliptical poly tanks are shaped in a way that allows them to fit neatly into saddles or in the back of pickup trucks. This makes them easy to store, move and fill quickly during emergencies.
Constructed with a robust polyethylene material emergency water strorage tanks are rated to successfully store drinking water. They can also be used in non emergency situations for non potable water, fertilizers and chemical storage. If needed, poly tanks are also available with built in legs to successfully remain stable in storage.
Elliptical Poly Tank Technical Specifications
| Capacity | Sizes (W x L x H) |
| --- | --- |
| 200 | 40" x 66" x 30" |
| 300 | 48" x 70" x 36" |
| 500 | 57" x 82" x 44" |
| 750 | 69" x 88" x 48" |
| 1000 | 78" x 90" x 55" |
| 1600 | 78" x 138" x 54" |
| 2550 | 88" x 142" x 82" |
Elliptical Poly Tank Features
Polyethylene
FDA Approved for Potable Water
Built in Band Grooves
UV Stabilized
10" Vented Lid
Specific Gravity of 1.5
Color Options: White or Black
Different Sizing Options and Capacities
Elliptical Poly Tank Benefits
Fast Draining Bottom Sump
Low Center of Gravity for Added Balance
Built-in Grooves for Bands
UV Stabilized for Outdoor Use
Rated for Both Water and Chemicals

Ellitical Poly Tank Typical Applications
The elliptical poly tank for emergency water storage is a low-profile option for transporting drinking water to rural locations like farms, nurseries, and other areas. You can also move non-potable water with the elliptical poly tank. Capacities of the elliptical poly tank range from 200 to 2,550 gallons. We also carry elliptical and horizontal, front or side-mounted saddle tanks for tractors. For more information on other applications and uses for the elliptical poly tank, see the list below.
Emergency Supply Storage
Portable Water Storage
Agricultural Applications
Industrial or Facility Backup Supply
View other Saddle Tanks
Low temperatures can be a hassle for any type of liquid stored inside your tank, we offer Power Blankets as a great solution to keep the temperature of your tanks under control.
For freeze protection for your tank, consider our custom made Thermal Heater Blanket. They are exactly what you need when cold weather affects the viscosity of fuel, fluids, and other materials. Power blankets keep your tanks and smaller corrugated/steel tanks at constant temperature, preventing fluids from freezing in extreme conditions. We customize thermal blankets to meet your specific needs, no matter the tank size or shape. Call us today to find out more!
Other Poly Elliptical Water Tank Trailer Options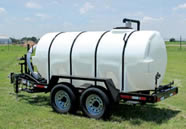 Water Wagon Trailers are reliable, rugged and DOT Apporved for use on public roadways. Use them for hauling water, irrigation, firefighting, dust control, and more. The water tank trailers also feature a poly horizontal or elliptical leg tank with capacities up to 1,625 gallons. For more information, contact us below!

If you have questions about products, give us a call at 1-863-261-8388 or request a price quote.
© Copyright Water Storage Containers 2011-2023. All rights reserved.