Fiberglass Water Storage Tanks
Fiberglass Above Ground Water Storage Tanks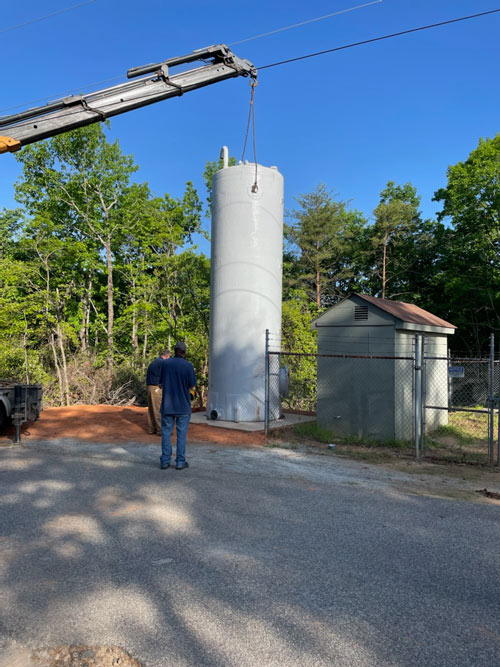 Fiberglass Water Storage Tanks are a reliable, high-strength option for storing, collecting rainwater, distributing and reusing water. Designed from a robust fiberglass fabric, these fiberglass tanks are resistant to rust, corrosion, cracking and denting. This provides customers with a high quality above ground water storage tank that will last for many years.
Construction for these fiberglass water storage tanks includes a careful process of building both the exterior tank and the interior resin. Depending on the type of liquid you will be storing in the tank, resins may be equipped with compliance for drinking water storage, gray water storage or chemicals. When choosing a fiberglass tank, please make sure to let us know what type of liquid will be stored in the tank so we can match the resin to your storage requirements.
Explore financing possibilities for this product; click here to apply for financing!
Features
Exterior features Two-Part Epoxy Covering
Interior Fiberglass Resin
Material is Inert (only features a one time chemical reaction)
Multiple Resins Available
Completely Enclosed
Benefits
Works to Effectively Store Various Water Types
High Resistance to Outside Elements and Interior Liquids
High Strength-to-Weight Ratio
Prevents Against Rust, Corrosion, Cracking and Deterioration
Equipped for Multiple Water Types such as Drinking Water, Gray Water and Rainwater
Standard Applications
Water Storage in Homes or Business
Emergency Water Supply
Fresh Water for Job Sites or in Remote Locations
Rainwater Collection
Gray Water Storage

Fiberglass Water Storage Tanks Technical Specifications

Capacity

Dimensions

Spill

NTE Weight

525
5' D X 4'8"
501
115
600
4' D X 6'
541
210
1000
4' D X 10'
940
295
900
5' D X 6'
844
22
1525
5' D X 10'
1468
390
1300
6' D X 6'
1216
370
2250
6' D X 10'
2114
472
1750
7' D X 6'
1654
367
3000
7' D X 10'
2887
601
2300
8' D X 6'
2161
485
3950
8' D X 10'
3758
829
2900
9' D X 6'
2735
598
5800
9' D X 10'
4756
1240
3500
10' D X 6'
3376
710
6000
10' D X 10'
5872
1280
4250
11'D X 6'
4085
810
7250
11' D X 10'
7105
1490
5000
12' D X 6'
4862
1400
8600
12' D X 10'
8455
1750
1700
~7'* X 7'
1623
350

Fiberglass material is extremely flexible and easy to customize. If you need a tank that is a different size than listed above, please give us a call.


*These Tanks Require an Escort for Transportation

All Tanks include Inlet, Outlet, Overflow/Drain, Vent and a 20" Manway

Request a Technical Drawing

Fittings

Standard Fittings are either galvanized (up to 2") or PVC (up to 4")
Flanged Fittings, ABS, or Other Fittings are Considered Specialty and are Extra
Visit our Specialty & Custom Made Tanks page for more options.
In addition to the above ground fiberglass water tank, we also supply underground tanks and fiberglass basins to meet all your liquid storage requirements. For these tanks and additional tank options, check out our Fiberglass Water Storage Tanks.

If you have questions about products, give us a call at 1-863-261-8388 or request a price quote.
© Copyright Water Storage Containers 2011-2023. All rights reserved.