---
Skid Sprayers
500 gallon Express Skid Mounted Sprayers
Skid Sprayers are a great option for small quantity water transport. Due to their compact size and design, skid sprayers have been effectively mounted to the back of pickup trucks and trailers.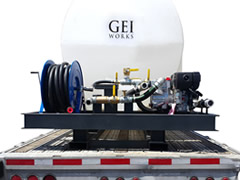 Express Mounted Skid Sprayer Uses:
Maintaining Landscapes
Spot Watering
Vegetation Watering
Livestock Spraying

Pest Control
Dust Suppression
Skid Sprayer Features:
Suction Hose
Fire Hose
Spray Hose
Spray Bar

Benefits:
Includes Hose and Spray Equipment
Functions as Both a Sprayer and Deicer
Fits in Pickup Trucks or Small Trailer
Compact Unit

Easy to Transport and Store
High Resistance Poly Tank
Includes All Necessary Spray Equipment
500 gallon Water Skid Sprayer Technical Specifications

Frame
6" Channel Iron
Empty Weight
805 lbs
Height
54"
Length
100"
Weight
57"
Skid Water Sprayers are designed as an all-in-one system that allows you to transport both water and necessary spray components around your site. If you require only portions of the tank, such as elliptical tanks, horizontal tanks or poly tanks please visit our complete variety of Portable Water Tanks.
Need the skid sprayer functionality, but on a trailer? We also manufacture Water Buffalo Trailers!

---
© Copyright GEI Works 2011-2018. All rights reserved.
GEI Works is a global solutions provider offering our expertise and products to the following states, countries, territories and provinces:

States:

Alabama, AL | Alaska, AK | Arizona, AZ | Arkansas, AR | California, CA | Colorado, CO | Connecticut, CT | Delaware, DE | Florida, FL | Georgia, GA | Hawaii, HI | Idaho, ID | Illinois, IL | Indiana, IN | Iowa, IA | Kansas, KS | Kentucky, KY | Louisiana, LA | Maine, ME | Maryland, MD | Massachusetts, MA | Michigan, MI | Minnesota, MN | Mississippi, MS | Missouri, MO | Montana, MT | Nebraska, NE | Nevada, NV | New Hampshire, NH | New Jersey, NJ | New Mexico, NM | New York, NY | North Carolina, NC | North Dakota, ND | Ohio, OH | Oklahoma, OK | Oregon, OR | Pennsylvania, PA | Rhode Island, RI | South Carolina, SC | South Dakota, SD | Tennessee, TN | Texas, TX | Utah, UT | Vermont, VT | Virginia, VA | Washington, WA | West Virginia, WV | Wisconsin, WI | Wyoming, WY

Countries, Territories and Provinces:

Malaysia, MY | Indonesia, ID | Antigua and Barbuda, AG | Bahamas, BS | Barbados, BB | Belize, BZ | British Virgin Islands, VG | Cayman Islands, KY | Dominican Republic, DO | Grenada, GD | Haiti, HT | Jamaica, JM | Montserrat, MS | Puerto Rico, PR | Saint Lucia, LC | Saint Vincent and the Grenadines, VC | Trinidad and Tobago, TT | Turks and Caicos Islands, TC | United States, US | US Virgin Islands, VI | Mexico, MX | Campeche, CM | Quintana Roo, QR | Yucatan, YU | Central and South America | Canada, CA | Alberta, AB | British Columbia, BC | Manitoba, MB | New Brunswick, NB | Newfoundland and Labrador, NL | Northwest Territories, NT | Nova Scotia, NS | Nunavut, NU | Ontario, ON | Prince Edward Island, PE | Quebec, QC | Saskatchewan, SK | Yukon, YT