Potable Water Trailer For Sale
Portable Water Trailers for Hauling Drinking Water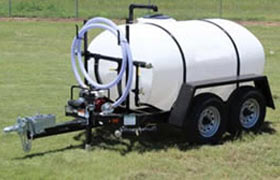 When it comes to hauling drinking water, you need a quality Potable Water Trailer that will go the distance. Our DOT approved water trailers are road ready and have many convenient features that make them easy to use. Boasting a 4 hp Honda engine and 2" pump, this trailer is so versatile that you'll be able to use it for a variety of purposes. With FDA approved coatings, our Potable Water Trailers not only safely deliver water, but they deliver on price too!
Potable Water Trailer Specifications:
These potable water tanks safely transport clean drinkable water. They are ready for use on public roadways, arriving complete with DOT approved LED lights, double free-backing surge brakes, tandem leaf spring axels, diamond-tread fenders, adjustable hitch and safety chain. The sturdy heavy-duty chassis on this portable water trailer can also be used off-road for delivery to hard-to-reach locations. See specifications above for specific product detail by water trailer tank size.
Potable Water Trailers for Sale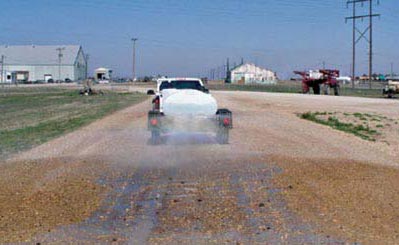 In addition to its use as a portable water trailer, the standard package of features allows you to use them for:
Spraying unpaved roadways, racetracks, parking lots and arenas to control dust
Watering agricultural crops, landscaping, turf, lawns and golf greens
Spot watering
Applying liquid fertilizer or pesticide
Washing equipment or livestock
Firefighting (spot application for putting out small fires, spraying an area for prevention)
Compressing ground on construction job sites
Note: If using any water trailer for hauling or storing non-potable water, we strongly recommend appropriately cleansing and sanitizing the tank and fixtures before using it again as a potable water trailer. It is not advisable to use any water tank for both consumable water and toxic liquids.
Potable Water Trailer Features include:
DOT Approved Trailer
Double free-backing surge brakes
LED lights
Safety chain
Tandem axels with leaf springs
2" 

Tsurumi

 pump with 4 hp Honda engine
High resistance polyethylene tank with potable water FDA approved coating

Adjustable 2 nozzle galvanized spray bar
25-foot fire hose and nozzle
Diamond-tread fenders
Anti-siphon fill kit
20-foot suction hose
See Specifications for additional detail
The features listed are part of the standard package for this portable water trailer. If you have specific requirements or need a customized solution, our Argo Water Trailer is your answer. We build and customize Argo water trailers to fit your needs.
If you need assistance in selecting the best option and features to fit your project needs, please call us. Our friendly and knowledgeable customer service representatives are happy to help.


---
© Copyright GEI Works 2011-2018. All rights reserved.
GEI Works is a global solutions provider offering our expertise and products to the following states, countries, territories and provinces:

States:

Alabama, AL | Alaska, AK | Arizona, AZ | Arkansas, AR | California, CA | Colorado, CO | Connecticut, CT | Delaware, DE | Florida, FL | Georgia, GA | Hawaii, HI | Idaho, ID | Illinois, IL | Indiana, IN | Iowa, IA | Kansas, KS | Kentucky, KY | Louisiana, LA | Maine, ME | Maryland, MD | Massachusetts, MA | Michigan, MI | Minnesota, MN | Mississippi, MS | Missouri, MO | Montana, MT | Nebraska, NE | Nevada, NV | New Hampshire, NH | New Jersey, NJ | New Mexico, NM | New York, NY | North Carolina, NC | North Dakota, ND | Ohio, OH | Oklahoma, OK | Oregon, OR | Pennsylvania, PA | Rhode Island, RI | South Carolina, SC | South Dakota, SD | Tennessee, TN | Texas, TX | Utah, UT | Vermont, VT | Virginia, VA | Washington, WA | West Virginia, WV | Wisconsin, WI | Wyoming, WY

Countries, Territories and Provinces:

Malaysia, MY | Indonesia, ID | Antigua and Barbuda, AG | Bahamas, BS | Barbados, BB | Belize, BZ | British Virgin Islands, VG | Cayman Islands, KY | Dominican Republic, DO | Grenada, GD | Haiti, HT | Jamaica, JM | Montserrat, MS | Puerto Rico, PR | Saint Lucia, LC | Saint Vincent and the Grenadines, VC | Trinidad and Tobago, TT | Turks and Caicos Islands, TC | United States, US | US Virgin Islands, VI | Mexico, MX | Campeche, CM | Quintana Roo, QR | Yucatan, YU | Central and South America | Canada, CA | Alberta, AB | British Columbia, BC | Manitoba, MB | New Brunswick, NB | Newfoundland and Labrador, NL | Northwest Territories, NT | Nova Scotia, NS | Nunavut, NU | Ontario, ON | Prince Edward Island, PE | Quebec, QC | Saskatchewan, SK | Yukon, YT