Potable Water Trailer For Sale
Transport Drinking Water with Portable Water Trailers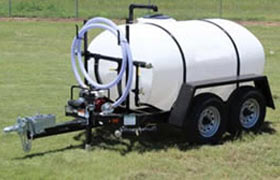 A potable water trailer will be the quality water storage solution you need to go the distance when hauling drinking water. Our DOT Compliant water trailers are road ready and have many convenient features that make them easy to use. Boasting a 4 horsepower Honda engine and 2" pump, each trailer is so versatile that you'll be able to use it for a variety of purposes. With FDA approved coatings, our potable water trailers not only safely deliver water, but they deliver on price, too!
Questions about potable water trailers? We can help! Call at 1-863-261-8388 or request a price quote.
Looking for other features? We have an assortment of water trailer vendors with an extensive offering of styles, sizes, and components at exceptional pricing. All capacities listed are for use with water storage. We ship from warehouses across the U.S. and our team will work with you to provide the equipment that fits your needs, delivered within the time frame that you need it. Contact Us for information on other liquid storage options.
Potable Water Trailer Models
Product Documents
Our potable water trailers safely transport clean drinkable water. They are ready for use on public roadways, arriving complete with DOT Compliant LED lights, double free-backing surge brakes, tandem leaf spring axels, diamond-tread fenders, adjustable hitch and safety chain. The sturdy heavy-duty chassis on this portable water trailer can also be used off-road for delivery to hard-to-reach locations. See specifications above for specific product detail by water trailer tank size.
Potable Water Trailers for Sale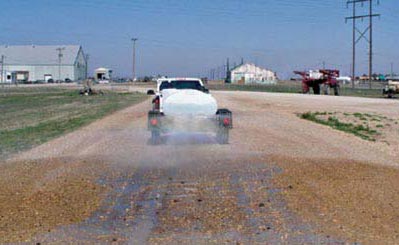 In addition to its use as a portable water trailer, the standard package of features allows you to use them for:
Spraying unpaved roadways, racetracks, parking lots and arenas to control dust
Watering agricultural crops, landscaping, turf, lawns and golf greens
Spot watering
Applying liquid fertilizer or pesticide
Washing equipment or livestock
Firefighting (spot application for putting out small fires, spraying an area for prevention)
Compressing ground on construction job sites
Note: If using any water trailer for hauling or storing non-potable water, we strongly recommend appropriately cleansing and sanitizing the tank and fixtures before using it again as a potable water trailer. It is not advisable to use any water tank for both consumable water and toxic liquids.
Potable Water Trailer Features
DOT Compliant trailer
Double free-backing surge brakes
LED lights
Tandem axels with leaf springs
2" Tsurumi pump with 4 hp Honda engine
High resistance polyethylene tank with potable water FDA approved coating

Adjustable 2 nozzle galvanized spray bar
25-foot fire hose and nozzle
Diamond-tread fenders
Anti-siphon fill kit
20-foot suction hose
Safety chain
The features listed are part of the standard package for the potable water trailer. If you have specific requirements or need a customized solution, our Portable Water Trailer is your answer. We build and customize water trailers to fit your needs.
If you need assistance in selecting the best option and features to fit your potable water trailer needs, please call us. Our friendly and knowledgeable customer service representatives are happy to help. Call our sales team at 1-863-261-8388 or request a price quote.
Additional Water Tank Options