---
Drinking Water Storage Tank
Plastic Rectangular Tank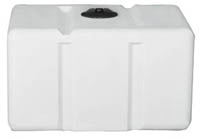 The Plastic Rectangular Drinking Water Storage Tank is a great way to store and transport water easily. Often placed in the back of pick up trucks, ATVs and trailers these plastic water storage tanks provide reliable and durable storage when it's needed most. Constructed from a polyethylene (plastic) material each tank is naturally high in UV resistance, chemical resistance and is FDA rated for potable water storage. Plastic Rectangular Tanks can be used for drinking water, agricultural liquids, chemicals, gray water and more around farms, businesses, industrial facilities, nurseries, storage areas and homes.
Plastic Drinking Water Storage Tank Features:
Polyethylene Construction
FDA Approved Interior Resin
UV Stabilized Exterior
Polypropylene Fittings and Accessories
Benefits:
UV Rated for Outdoor Storage
Durable, High Quality Exterior
Interior Resin Approved for Drinking Water
Easy to Transport
Great for Any Location
Successfully Stores Chemicals and Water
Typical Applications:
Rectangular Tank Technical Specifications

Capacity

Size (W x L x H)

Manway

Fittings

50

41" x 27" x 17"

8 "

No Fitting

100

41" x 27" x 30"

8 "

No Fitting

200

48" x 36" x 29"

8 "

No Fitting

300

63" x 42" x 30"

8 "

No Fitting

500

92" x 48" x 31"

-

-
Rectangular Tanks are part of a large poly product line designed to successfully store and transport liquids. All made from the same polyethylene material, these tanks are well rated for successful drinking water storage. Additional models include vertical poly tanks, round horizontal tanks, underground tanks and more.

---
© Copyright GEI Works 2011-2018. All rights reserved.
GEI Works is a global solutions provider offering our expertise and products to the following states, countries, territories and provinces:

States:

Alabama, AL | Alaska, AK | Arizona, AZ | Arkansas, AR | California, CA | Colorado, CO | Connecticut, CT | Delaware, DE | Florida, FL | Georgia, GA | Hawaii, HI | Idaho, ID | Illinois, IL | Indiana, IN | Iowa, IA | Kansas, KS | Kentucky, KY | Louisiana, LA | Maine, ME | Maryland, MD | Massachusetts, MA | Michigan, MI | Minnesota, MN | Mississippi, MS | Missouri, MO | Montana, MT | Nebraska, NE | Nevada, NV | New Hampshire, NH | New Jersey, NJ | New Mexico, NM | New York, NY | North Carolina, NC | North Dakota, ND | Ohio, OH | Oklahoma, OK | Oregon, OR | Pennsylvania, PA | Rhode Island, RI | South Carolina, SC | South Dakota, SD | Tennessee, TN | Texas, TX | Utah, UT | Vermont, VT | Virginia, VA | Washington, WA | West Virginia, WV | Wisconsin, WI | Wyoming, WY

Countries, Territories and Provinces:

Malaysia, MY | Indonesia, ID | Antigua and Barbuda, AG | Bahamas, BS | Barbados, BB | Belize, BZ | British Virgin Islands, VG | Cayman Islands, KY | Dominican Republic, DO | Grenada, GD | Haiti, HT | Jamaica, JM | Montserrat, MS | Puerto Rico, PR | Saint Lucia, LC | Saint Vincent and the Grenadines, VC | Trinidad and Tobago, TT | Turks and Caicos Islands, TC | United States, US | US Virgin Islands, VI | Mexico, MX | Campeche, CM | Quintana Roo, QR | Yucatan, YU | Central and South America | Canada, CA | Alberta, AB | British Columbia, BC | Manitoba, MB | New Brunswick, NB | Newfoundland and Labrador, NL | Northwest Territories, NT | Nova Scotia, NS | Nunavut, NU | Ontario, ON | Prince Edward Island, PE | Quebec, QC | Saskatchewan, SK | Yukon, YT