Fire Fighting Water Supply
Temporary Water Tanks for Fire Fighting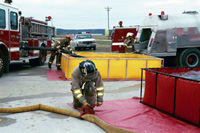 During fire fighting efforts in rural locations, finding an adequate fire fighting water supply can be a challenge. While methods have included portable trailers, large water haulers and fire trucks, keeping enough water on hand can be difficult. To help with this problem, our team offers open top onion tanks and folding frame tanks to help store and contain water during fire fighting efforts. These tanks allow water to stay on site while trailers and haulers move back and forth to continuously supply water.

If you have questions about products, give us a call at 1-863-261-8388 or request a price quote.
Fire Fighting Water Tank Options
Folding Frame Water Tanks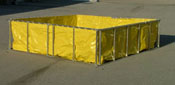 Equally equipped to handle water storage, the Folding Frame Fire Fighting Water Supply Tanks are an excellent choice for self-supporting water storage. Frame tanks are basically designed as folding unit that allows water to be filled from the top. Tanks can be unfolded once they arrive to your location with the frame installed all around the tank. This provides a self-sustaining structure that can support various amounts of weight, typically up to 5,000 gallons in size. Advantages to these tanks include:
Quick Deployment in Your Location
Collapsible Frame for Easy Storage
Fits Neatly on Fire Trucks for Transportation
Equipped to Store Large Amounts of Water
Perfect for Use as a Dump Tank
Onion Water Tanks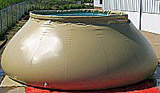 Onion Water Tanks are a favorite for this type of storage and have been used for applications requiring a self-supporting water storage vessel. Onion tanks shown here are made with either a high or low side wall and can built in several different sizing options.
Due to the large quantity of water needed for these wild fires, having these model tanks can offer several advantages including:
Transportation When Empty
Self-Supporting
Easy to Fill
Large Capacities Available
Quick Deployment/Fast Setup
Accessories for Folding Frame Tanks
Folding frame tanks and other fire fighting tanks have numerous options. Replacement liners and frames are available to fit all sizes. Additionally, custom liners and frames can be made new. Patch kits are available for folding frame tanks. These patch kits include:
1 pint of adhesive
Approx. 1 yard of material
Scissors
Seam roller
Scratch pad
Alcohol prep pads
Tool box
Other options and accessories and for fire fighting tanks include:
22 oz. vinyl sides with heavy duty 28 oz. vinyl base liners
Double folding frames
40″ long equalizer drain sleeves
Grab handle and hinge protector kits for your existing tanks
Rectangular size frames and liners are also offered
Alcohol prep pads
Top covers available for all sizes of frame tanks
We also carry fire hoses, pumps, engines and fire nozzles to maximize your fire fighting efforts. Engines we carry include Honda and Briggs. Pumps we carry include CAT Triplex Plunger Pump. We carry a variety of hose reels from E-Z Reel and E-Z Reel Pro Hose Reel, 2" and 3" E-Z- Hose Reel Kits, 2" and 3" E-Z Hose Reel Trailer Packages, and more.
Other Fire Fighting Solutions
Folding frame tanks and open top onion tanks are great sources of water storage for first responders, but they are not the only means of water storage for fire suppression. Some other tools we carry to aid in fire suppression include:
Fire Gel
Water Strainers
'Flying' Helicopter Water Tanks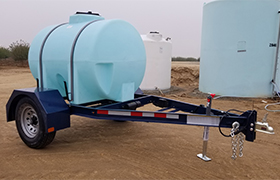 Water Trailers and Skid Sprayers are two tools that provide excellent water pressure for fire suppression. Skid sprayers for fire suppression can be placed in the back of UTVs and ATVs to go into rural and remote places. With fire hoses, boom sprayers, hose reels, pumps and engines, you can experience incredible water pressure and power to fight fires.
Fire Gel is a super polymer, gel-based spray that is used to coat the outside of building to act as a fire retardant when wildfires and forest fires threaten. The great thing about fire gel is that it absorbs a great amount of water and is ultra effective against flames and active fires. However, for it to live up to its full potential, it must be kept wet and misted regularly.
Water Strainers are a great accessories and resource for first responders and operators who need access to clean water. In local bodies of water, muck, sand, dirt and debris can interrupt the flow of water and damage equipment. However, with our supply of water strainers, you will be able to find the accessories that best fit your water tank equipment.
Helicopter Tanks are a pyramid-shaped blivet water tank that is made from heavy duty vinyl and is easily transportable by helicopter or truck. While folding frame tanks are compact and easy to set up and supply an abundance of water, there is one thing that they cannot do—they can be airlifted. The Helicopter Tank offers up to 600 gallons of emergency water storage that can be airlifted by a helicopter.
Use with Fire Fighting Units
When used for fire fighting efforts, tanks are quickly setup along the area of the flame and filled from water trucks. From here, hoses can be used to start with fire fighting efforts. These tanks have often been used for the following applications:
Wild Fire Fighting Efforts
Fire Fighting Water Supply in Remote Locations
Forest Fire Fighting
Fire Fighting in Remote or Rural Locations
In addition to fire fighting, tanks can also be used during natural emergencies (such as hurricanes, tornadoes, and earthquakes) to supply water to local populations.
Folding frame tanks can be used for a variety of applications in need of reliable water storage. The portability and durability of folding frame tanks sets them apart from other water storage solutions. Some other applications for folding frame tanks include:

If you have questions about products, give us a call at 1-863-261-8388 or request a price quote.
© Copyright Water Storage Containers 2011-2023. All rights reserved.