Portable Stock Water Containers
Portable Stock Water Tanks for Livestock and Farm Animals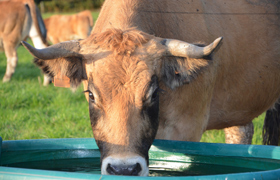 When taking care of a large number of livestock and cattle, having the correct amount of water to satisfy them at the right frequency is extremely important. With heavy duty, portable folding water storage containers, you will have water storage large enough to satisfy a great number of cattle and ensure that your livestock have the water they need when they need it.
Try Collapsible, Folding Frame Tanks for your portable stock water tank application. Made with a rigid outer frame built to hold a flexible, durable inner liner, foldable water tanks are an open-top water tank solution that can easily be set up and deployed in a matter of minutes. Find out more about the durable Folding Frame Tank we offer by Contacting Us or Calling us at 1-863-261-8388.

If you have questions about products, give us a call at 1-863-261-8388 or request a price quote.
Choosing Portable Stock Water Tanks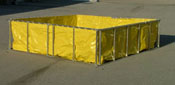 For grass fed cattle and other livestock, having the right amount of water at the right frequency will make sure your cattle eat enough, digest the grass that they eat, grow properly and make the right weight gains. Cattle require large amounts of water, the exact amounts depending on their age ranges and weight group.
Make sure your cattle are getting the correct amount of water at the correct time by calculating how much water they need according to weight group and age range. Having a portable, durable water source that is large enough to meet your livestock's water requirements will mean the different between hurting your livestock's weight gains and profitability.
Why Should You Use Portable Stock Water Tanks?
Large Sizes: Keep Up with high Watering Demands
Portability: follow Livestock While Grazing on Trails
Durability: Keep Tanks From Getting Damaged Outdoors
Portable, Folding Frame Tank Features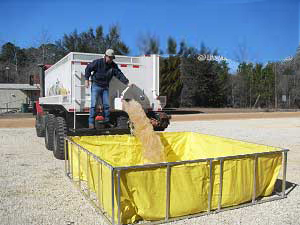 Folding frame tanks deliver reliable water storage and can be made to handle your exact specifications. Depending on the size of your livestock herd, you will need a water storage container that is large enough to satisfy all of your livestock. Having unreliable water source that are infrequently refilled is harmful to livestock. For cattle, an unreliable water source will create a shortage in herd psychology, creating competition among the cattle and hurting livestock weight gains and profitability. Better to have a folding frame tank with a large gallon capacity.
Folding frame tanks offer great portability than other livestock tanks. Collapsible frame tanks can be broken down and rebuilt in minutes, taken to wherever it is needed. Grazing cattle go wherever the gras is, and if you don't have a mobile cattle watering system, then you might leave your livestock without a nearby water source. Heaving a portable stock water tank in this application is essential.
Folding frame tanks offer great durability in their construction. Made with a rigid outer frame that is constructed from welded aluminum or steel and an interior liner made from High Performance Rubber or Vinyl, you can be sure that the folding frame tank is durable. High Performance Rubber (HPR) is cold-crack resistant, UV resistant, tear and abrasion resistant.
Options for the folding frame tanks include:
22 oz. vinyl sides with heavy duty 28 oz. vinyl base liners
Double folding frames
40″ long equalizer drain sleeves
Grab handle and hinge protector kits for your existing tanks
Rectangular size frames and liners are also offered
Top covers available for all sizes of frame tanks (Great for Keeping Out Sunlight!)
Other Applications for Folding Frame Tanks
Folding frame tanks can be used for a variety of applications in need of reliable water storage. The portability and durability of folding frame tanks sets them apart from other water storage solutions. Some other applications for folding frame tanks include:
Other Products You Might Be Interested In
We carry a variety of Water Storage Containers for different applications and projects you might experience. On rural homesteads, farms, construction jobsites, and other places, having different water storage solutions will be give you access to water when you needed it most. Folding frame tanks offer portability and durability for a large amount of water when watering livestock. Other helpful products include our Non DOT Water Trailer and Skid Sprayers These offer an even greater portability, letting you carry water across your property to use in a variety of applications from fire fighting to pesticide spraying to more.

If you have questions about products, give us a call at 1-863-261-8388 or request a price quote.
© Copyright Water Storage Containers 2011-2023. All rights reserved.
Water Storage Containers is a global solutions provider offering our expertise and products to the following states, countries, territories and provinces:

States:

Alabama, AL | Alaska, AK | Arizona, AZ | Arkansas, AR | California, CA | Colorado, CO | Connecticut, CT | Delaware, DE | Florida, FL | Georgia, GA | Hawaii, HI | Idaho, ID | Illinois, IL | Indiana, IN | Iowa, IA | Kansas, KS | Kentucky, KY | Louisiana, LA | Maine, ME | Maryland, MD | Massachusetts, MA | Michigan, MI | Minnesota, MN | Mississippi, MS | Missouri, MO | Montana, MT | Nebraska, NE | Nevada, NV | New Hampshire, NH | New Jersey, NJ | New Mexico, NM | New York, NY | North Carolina, NC | North Dakota, ND | Ohio, OH | Oklahoma, OK | Oregon, OR | Pennsylvania, PA | Rhode Island, RI | South Carolina, SC | South Dakota, SD | Tennessee, TN | Texas, TX | Utah, UT | Vermont, VT | Virginia, VA | Washington, WA | West Virginia, WV | Wisconsin, WI | Wyoming, WY

Countries, Territories and Provinces:

Malaysia, MY | Indonesia, ID | Antigua and Barbuda, AG | Bahamas, BS | Barbados, BB | Belize, BZ | British Virgin Islands, VG | Cayman Islands, KY | Dominican Republic, DO | Grenada, GD | Haiti, HT | Jamaica, JM | Montserrat, MS | Puerto Rico, PR | Saint Lucia, LC | Saint Vincent and the Grenadines, VC | Trinidad and Tobago, TT | Turks and Caicos Islands, TC | United States, US | US Virgin Islands, VI | Mexico, MX | Campeche, CM | Quintana Roo, QR | Yucatan, YU | Central and South America | Canada, CA | Alberta, AB | British Columbia, BC | Manitoba, MB | New Brunswick, NB | Newfoundland and Labrador, NL | Northwest Territories, NT | Nova Scotia, NS | Nunavut, NU | Ontario, ON | Prince Edward Island, PE | Quebec, QC | Saskatchewan, SK | Yukon, YT