Express Water Wagons For Sale
Industrial Water Wagon Trailers
Express Water Wagon Trailers are a safe and convenient way to store, transport and distribute water. If you're looking for utility, including a DOT water trailer with industrial-use features, ask us about Express Water Wagons for sale.
Poly leg tank
(500, 800, 1025, and 1600 gallon size options)
DOT approved trailers with double free-backing surge brakes
(For the 1600 gallon trailer, electric brakes are standard)
LED lights and safety chains
Tandem axels with leaf springs
4 HPHonda Engine & 2" Tsurumi Pump
Diamond tread fenders
Additional Express Water Wagon Features:
25' discharge fire hose and nozzle
Galvanized spray bar with double nozzles
(sprays up to a 25' swath)
Galvanized discharge bar
20' Suction fill hose
Suction strainer & fire hydrant adapter
2" anti-siphon fill kit
(prevents any backflow to the water source)
ST225/75D15 Tires on EZ lube hubs*
Water wagon chassis of 6" channel iron frame*
Adjustable height ball hitch

*For safety, the tire sizes and channel iron size vary, depending on the size of the water trailer selected.

Water Wagons For Sale (Specifications):
500 Gallon Trailer (pdf)
800 Gallon Trailer (pdf)
1025 Gallon Trailer (pdf)
1600 Gallon Trailer (pdf)
Note: These features are standard. If you're looking for the ultimate in water trailers with additional features (or if you need to customize the trailer), you'll love our Argo Water Wagons. We build Argo Water Trailers to your specifications.
Express Water Wagon Uses:
Since Express Water Wagon Trailers are designed specifically for industrial use, they are a popular solution for many different types of applications including: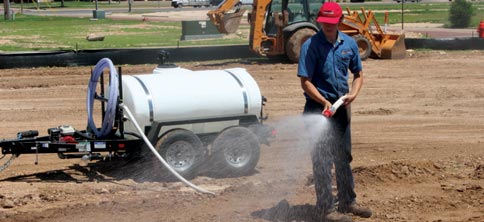 Farm water tank wagons:
- For hauling water
- For irrigating and fertilizing crops
- For washing machinery or livestock
Firefighting water wagon trailers:
- For water reserves or transporting water
- For wetting the ground quickly and uniformly
- For firefighting use in locations that are difficult to reach with heavier equipment
Arena water tank wagons: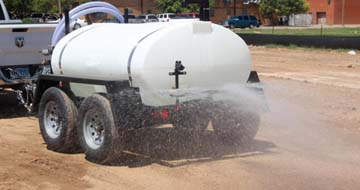 - For spraying the arena
- For watering or washing livestock
- For facilities upkeep
Additional uses for water wagon trailers:
- Dust suppression and control
- Irrigating landscaping
- Tree spraying
- Watering golf courses or turf

Other Water Storage Products You May be Interested In:
Portable Plastic Storage Tanks
In addition to the water wagon trailers featured here, we also offer several portable plastic tanks that can fit in the back of pickup trucks, vehicles and trailers.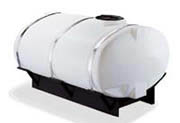 Elliptical Tanks
Leg Tanks
Horizontal Sump Bottom Tanks
View All Portable Water Tanks
Flexible Water Tanks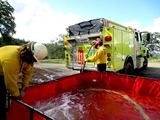 Flexible water tanks are perfect for temporary water storage. They're quick to set-up, built for active use, and easy to break down again for storage. We manufacture a variety of flexible water tanks, and can assist you in selecting the right tank for your project's needs.
Corrugated Water Storage Tanks
Corrugated galvanized water tanks can be used to for either potable or non-potable water storage. Tank sizes range from 780 gallons up to 95,000 gallons, and can be built to specific requirements.
---
© Copyright GEI Works 2011-2018. All rights reserved.
GEI Works is a global solutions provider offering our expertise and products to the following states, countries, territories and provinces:

States:

Alabama, AL | Alaska, AK | Arizona, AZ | Arkansas, AR | California, CA | Colorado, CO | Connecticut, CT | Delaware, DE | Florida, FL | Georgia, GA | Hawaii, HI | Idaho, ID | Illinois, IL | Indiana, IN | Iowa, IA | Kansas, KS | Kentucky, KY | Louisiana, LA | Maine, ME | Maryland, MD | Massachusetts, MA | Michigan, MI | Minnesota, MN | Mississippi, MS | Missouri, MO | Montana, MT | Nebraska, NE | Nevada, NV | New Hampshire, NH | New Jersey, NJ | New Mexico, NM | New York, NY | North Carolina, NC | North Dakota, ND | Ohio, OH | Oklahoma, OK | Oregon, OR | Pennsylvania, PA | Rhode Island, RI | South Carolina, SC | South Dakota, SD | Tennessee, TN | Texas, TX | Utah, UT | Vermont, VT | Virginia, VA | Washington, WA | West Virginia, WV | Wisconsin, WI | Wyoming, WY

Countries, Territories and Provinces:

Malaysia, MY | Indonesia, ID | Antigua and Barbuda, AG | Bahamas, BS | Barbados, BB | Belize, BZ | British Virgin Islands, VG | Cayman Islands, KY | Dominican Republic, DO | Grenada, GD | Haiti, HT | Jamaica, JM | Montserrat, MS | Puerto Rico, PR | Saint Lucia, LC | Saint Vincent and the Grenadines, VC | Trinidad and Tobago, TT | Turks and Caicos Islands, TC | United States, US | US Virgin Islands, VI | Mexico, MX | Campeche, CM | Quintana Roo, QR | Yucatan, YU | Central and South America | Canada, CA | Alberta, AB | British Columbia, BC | Manitoba, MB | New Brunswick, NB | Newfoundland and Labrador, NL | Northwest Territories, NT | Nova Scotia, NS | Nunavut, NU | Ontario, ON | Prince Edward Island, PE | Quebec, QC | Saskatchewan, SK | Yukon, YT