Honda GX390 Pressure Washer with Trailer
Best Gas Powered Pressure Washer
The powerful Honda GX390 Pressure Washer with Trailer has 4200 PSI of cleaning power and is available in three model styles to meet your gas powered pressure washer needs. We believe that our Honda 4200 PSI Pressure Washer Trailer is the best gas powered pressure washer on the market today. It will it accomplish all your professional jobs with ease. Perfectly designed for cleaning, mobile detailing, municipalities, resorts, playgrounds, farm equipment, country clubs, schools, organizations with large properties and much more. These distinct cold-water pressure washing trailers come in three models: 95002, 95003, 95004.

If you have questions about Pressure Washer Trailers, give us a call at 1-863-261-8388 or request a price quote.
Made for Versatility and Power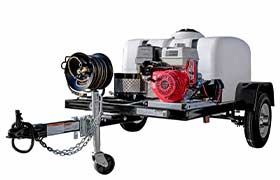 Our commercial pressure washer unit 95002 is the base model with a 4200 PSI at 4.0 GPM Honda GX390 engine and a reliable CAT Triplex plunger pump. Equipped with a 49-state compliant Honda engine, this model ensures you are getting a dependable commercial pressure washer.
All three professional, cold-water pressure washer trailers are DOT compliant for over-the-road use on a variety of terrain. You can take your mobile commercial pressure washer trailer from one jobsite to another with confidence. Engineered for fast and easy setup, each Honda GX390 pressure washer model allows you to pull up to a jobsite and get to work. Simply connect the spray gun, start the engine and begin cleaning.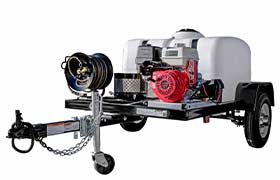 Our next model with a Triplex plunger, model unit 95003, takes the Honda GX390 Pressure Washer with 4200 PSI and adds the extra convenience and ease of an electric start.
It is that simple! With 5 quick-connect nozzle tips: 0°, 15°, 25°, 40° ,these gas-powered washers are well suited for a wide variety of high-powered cleaning projects. Made in the USA, products typically ship within 5-7 days of ordering.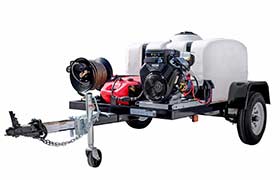 The third gas-pressure washer 95004 is even more budget-friendly, and comes with a Vanguard V-Twin engine and CAT Triplex plunger pump, producing 4200 PSI at 4.0 GPM. While the Honda GX390 is available for use in 49 states, the Vanguard is approved for use in all US States (including California)
Honda GX390 Pressure Washer Features and Benefits
Honda GX390 Engine (95002, 95003) or Vanguard V-Twin Engine (95004)
CAT Triplex Plunger Pump
4200 PSI, 4 GPM
Water tank: 150 Gallons
2000 lb. Single Axle Construction
Easy Setup and Easy Use
Durable, Rugged, Reliable Pressure Washing
Made in USA
Ships in 5-7 Days
With such power and versatility, these heavy duty, cold-water, mobile Honda GX390 Pressure Washers have many uses:
Sanitation
Wash-downs
Cleaning Surfaces
Pre-wetting Concrete for construction
Livestock Pens for Poultry or Pigs
Playgrounds
Exterior Buildings
Sidewalks
Driveways
Seawalls
Boats
For freeze protection for your water trailer or skid, our Water Trailer Heater Blankets are exactly what you need . When cold weather affects the viscosity of fuel, fluids, and other materials you can lose production time, adding additional costs. Power blankets keep your tanks and smaller corrugated/steel tanks at constant temperature, preventing fluids from freezing in extreme conditions. We customize thermal blankets to meet your specific needs, no matter the tank size or shape. Call us today to find out more!
Additional Pressure Water Trailer Sizes and Styles
Looking for other options? We have an assortment of water trailers with a variety of styles, sizes, and components at exceptional pricing. Learn more about gas powered pressure washer offerings, including engines, hot and cold pressure, and pump sizes to meet your professional cleaning needs. Download the Pressure Washer Trailer Comparison (PDF) for more specifications and details.
Customers Also Viewed These Products
To learn more about Honda GX390 Pressure Washer with Trailer or if you need a custom solution, speak to our team at 1-863-261-8388 or request a price quote.