Honda GX270 Pressure Washer Trailer
Triplex Plunger Pressure Washer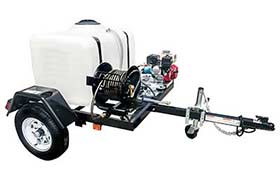 The Honda GX270 Pressure Washer is versatile and powerful enough to handle commercial needs. This Triplex Plunger Pressure Washer is the perfect solution for contract cleaners, mobile detailers, municipalities, and resorts. The small mobile pressure washer is easy to set up on any job. Pull up to the work area, connect the spray gun, start the engine, and you're ready to go. Equipped with a HONDA® engine and CAT PUMPS® triplex pump, the mobile pressure washer 95000 delivers powerful and reliable cleaning action. The small towable trailer has 3200 PSI of cold-water pressure to tackle even your toughest cleanup jobs.
This pressure washer with a CAT triplex pump is ideal for commercial cleaning, sanitation, parks and playgrounds, solar panels, and other facility needs The trailer is DOT Compliant as an over-the-road mobile pressure washing system. Made with lighter construction, it allows you to maneuver across rugged terrain with ease. The abrasion resistant hose with quick connect fittings and 5 nozzle tips gives you flexibility for any job. The Mobile Pressure Washing Trailer 95000 is manufactured in the USA and in stock. Orders typically ships within 5-7 days. Shipping is included in the price within the continental US.

If you have questions about Pressure Washer Trailers, give us a call at 1-863-261-8388 or request a price quote.
HONDA-GX270 Pressure Washer Trailer Features and Benefits
Reliable CAT® Triplex Plunger Pump
HONDA® GX200 Engine with 2.8 GPM
3200 PSI
Steel-braided Monster Hose 3/8 in. x 50 ft.
5 Quick Connect Nozzle Tips
100 Gallon Water Tank
Easy to maneuver and set up
The HONDA-GX270 Pressure Washer Trailer is DOT compliant
Well suited for variety of terrains, the versatile colder water pressure washing trailer is perfect for the following applications:
Commercial Cleaning
Sanitation
Resorts
Solar Panels
Parks and Playgrounds
City Walkways
Municipalities
Poultry Houses
Mobile Detailing
Farm Equipment
Heave Machinery
Looking for other water trailer solutions along with the Honda GX270 Pressure Washer Trailer? Download the Pressure Washer Trailer Comparison (pdf) (PDF) for more specifications and details about our pressure washer units. We also offer commercial pressure washer trailers in other sizes, engines and pump sizes. Contact us for help choosing the perfect rig for your commercial cleaning needs. Call or contact us for more information.
For freeze protection for your water trailer or skid, our Water Trailer Heater Blankets are exactly what you need . When cold weather affects the viscosity of fuel, fluids, and other materials you can lose production time, adding additional costs. Power blankets keep your tanks and smaller corrugated/steel tanks at constant temperature, preventing fluids from freezing in extreme conditions. We customize thermal blankets to meet your specific needs, no matter the tank size or shape. Call us today to find out more!
If you need a custom Commercial Pressure Washer Trailer, please see our line of Mobile Water Trailers. Have questions about commercial pressure washing trailers, give us a call!
Customers Also Viewed These Products
If you have questions about a our pressure washer trailers, give us a call at 1-863-261-8388 or request a price quote.