Water Tank Trailer
DOT Water Trailer for Water Storage and Transportation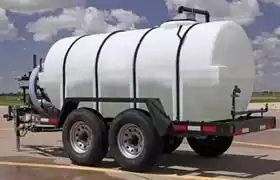 The DOT Water Tank Trailer can't be beat when it comes to storing and hauling water. Made in sizes that range from 500 to 1600 gallons, our water tank trailers are built to meet the needs of both small and bulk water transportation requirements. All water trailers are designed as a complete system that includes a polyethylene tank, DOT trailer, hose, hitch, pump and engine, along with other key-features to make your job easier.
DOT Water Tank Trailer Features
DOT compliant trailer
Double free-backing surge brakes
LED lights
Safety chain
Tandem axels with leaf springs
2" Tsurumi pump with 4 hp Honda engine

Adjustable 2 nozzle galvanized spray bar
25-foot fire hose and nozzle
Diamond-tread fenders
Anti-siphon fill kit
20-foot suction hose
High resistance polyethylene tank
Our water tank trailers are robust, reliable, and get the job done. You won't be disappointed. On the other hand, if you're looking for the ultimate DOT water hauling trailer with limitless customization options, you'll love our Water Tank Trailers. We have DOT water trailers to your specifications.
See the available Water Tank Trailer models:
Water Tank Trailer Benefits
Multiple Tank Storage Sizes
Robust Tank Construction
Adaptable to Many Spray Jobs or Requirements
DOT Approved for Transportation
Whether your water trailer has surge brakes or electric brakes is determined by several factors, incluging the size and style of trailer.
Standard Water Tank Trailer Applications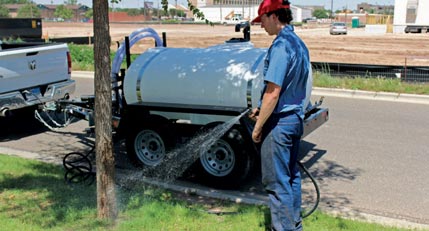 Fertilizer or Pest Control Sprayer
Watering of Vegetation
Moving Drinking Water
Dust Control
Extinguishing Small Fires
As one of the most versatile and best priced choices available on the market, our DOT water tank trailers are popular choices for a wide variety of applications. These water trailers are used for firefighting efforts, agriculture and farming, arena maintenance, and construction, as well as grounds and facilities upkeep.
If you need assistance in selecting the best option and features to fit your project needs, please call us. Our friendly and knowledgeable customer service representatives will be happy to help.
Other Water Storage Tank Options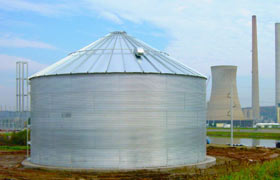 We also offer a wide variety of other types of water storage containers, that can be used to store water for use in your water hauling trailer as well as other applications.