Temporary Water Storage Tank
Recommended for Temporarily Storing 20,000 Gallons of Water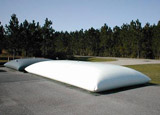 Question: Hello. I am in need of a temporary water storage bladder tank that can safely store potable water while my tank is in repair. I need this tank to be able to store 20,000 gallons. What would be a good option for this? I see plastic is available but I'm concerned over the cost.
Answer: For economical short term water storage in the size you have requested, one option you might consider is the Drinking Water Bladder Tank. These tanks offer capacities specifically equipped to handle the storage of potable water and come in capacities as large as 210,000 gallons. This could provide you with the 20,000 gallon capacity storage you require in a tank that is easier to ship and fast to install.
While we do also offer Plastic Tanks for potable water, our largest capacity would be around 10,000 gallons. These tanks would be very large and might not be as economical to ship to your location.

If you have questions about products, give us a call at 1-863-261-8388 or request a price quote.
Collapsible Tank Design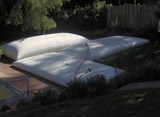 The design of a flexible tank, also known as a collapsible tank or water bladder, includes a moving exterior that rises as it fills with water to form a pillow or bladder shape. When equipped specifically for drinking water, some of the features you might find include the following:
FDA and NSF 61 Approved Fabrics: Includes polyurethane, polymer alloy, and PVC coated fabrics.


Fittings: Standard sizes range from 3/4" to 2" and include ball valves, hose adapter fittings, caps and pressure relief vents.


Optional Accessories: Optional items that can be added to this tank include ports, emergency plugs, repair kits, spare parts, and pressure relief valves.
Collapsible Tank Advantages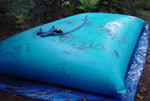 When compared to hard, rigid plastic tanks, the collapsible tank can offer many advantages in terms of storage capacity, flexibility, and cost. Some of the main benefits of these tanks over a plastic tank include the following:
Flexible Exteriors: Tank exteriors will lie flat and can even be folded when they are empty. This has helped to make the tank:

Easier to Set Up
Economical to Ship
Faster to Move



Larger Capacities: When compared to standard plastic tanks, the collapsible tank can offer increased storage capacities with tanks available for storing as much as 210,000 gallons of water in a single tank.


Multiple Fabric Options: The collapsible tank is also versatile in its fabric options. Each tank can typically be made in one of three materials:

1 year contact time: light duty, temporary storage
3-5 year contact time: medium duty, increased storage
7 year contact time: heavy duty, demanding size or application
Having multiple choices can be especially useful when looking for a temporary water storage tank as fabrics can be chosen for short-term durations. Tanks can also be reused.
It should be noted the contact time is defined as the point in time in which the fabric on a tank may start to change based on weathering and other factors. It is not a definite lifespan for the tank as tanks have lasted well beyond the rated contact time.
Learn more about the Collapsible Drinking Water Tank and how it can be used as a temporary water storage tank.

If you have questions about products, give us a call at 1-863-261-8388 or request a price quote.
© Copyright Water Storage Containers 2011-2023. All rights reserved.
Water Storage Containers is a global solutions provider offering our expertise and products to the following states, countries, territories and provinces:

States:

Alabama, AL | Alaska, AK | Arizona, AZ | Arkansas, AR | California, CA | Colorado, CO | Connecticut, CT | Delaware, DE | Florida, FL | Georgia, GA | Hawaii, HI | Idaho, ID | Illinois, IL | Indiana, IN | Iowa, IA | Kansas, KS | Kentucky, KY | Louisiana, LA | Maine, ME | Maryland, MD | Massachusetts, MA | Michigan, MI | Minnesota, MN | Mississippi, MS | Missouri, MO | Montana, MT | Nebraska, NE | Nevada, NV | New Hampshire, NH | New Jersey, NJ | New Mexico, NM | New York, NY | North Carolina, NC | North Dakota, ND | Ohio, OH | Oklahoma, OK | Oregon, OR | Pennsylvania, PA | Rhode Island, RI | South Carolina, SC | South Dakota, SD | Tennessee, TN | Texas, TX | Utah, UT | Vermont, VT | Virginia, VA | Washington, WA | West Virginia, WV | Wisconsin, WI | Wyoming, WY

Countries, Territories and Provinces:

Malaysia, MY | Indonesia, ID | Antigua and Barbuda, AG | Bahamas, BS | Barbados, BB | Belize, BZ | British Virgin Islands, VG | Cayman Islands, KY | Dominican Republic, DO | Grenada, GD | Haiti, HT | Jamaica, JM | Montserrat, MS | Puerto Rico, PR | Saint Lucia, LC | Saint Vincent and the Grenadines, VC | Trinidad and Tobago, TT | Turks and Caicos Islands, TC | United States, US | US Virgin Islands, VI | Mexico, MX | Campeche, CM | Quintana Roo, QR | Yucatan, YU | Central and South America | Canada, CA | Alberta, AB | British Columbia, BC | Manitoba, MB | New Brunswick, NB | Newfoundland and Labrador, NL | Northwest Territories, NT | Nova Scotia, NS | Nunavut, NU | Ontario, ON | Prince Edward Island, PE | Quebec, QC | Saskatchewan, SK | Yukon, YT