Corrugated Steel Water Tank Installation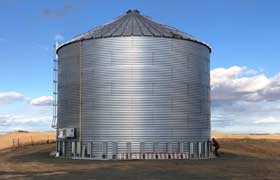 There are several things to consider if you install your tank yourself, hire your own installers, or have us install your tank. We are committed to meeting our warranty specification services so your tank is fully covered, and provide the most professional installation of your tank possible. Find out more about what to expect from the tank engineering and the installation process. To learn more or for pricing, contact us.
Corrugated Steel Water Tank Installation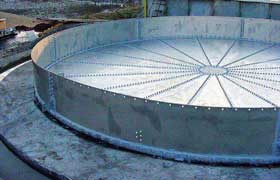 Determining the type and size of tank you need requires defining your usable gallon requirements, your project coordinates, and the tank use/ application. This is something that happens before your tank manufacturing can begin. Using the specific engineering calculation for your tank, sheets are designed ranging in gauge for your tank. Once all the information has been gathered, manufacturing for your tank begins, using your calculated specifications. To determine your tank calculations, click here.
Once your tank panels are complete, they are delivered to your site ready for assembly. Prior to installation, the appropriate tank liner has been welded to the dimensions of your tank. Larger tanks may require some field welding on site.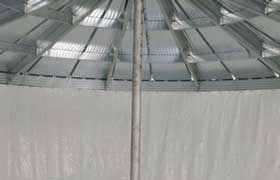 The ground for your site should be prepared and uniformly leveled for proper installation. A pre-poured concrete foundation should be in place before the assembly of your tank begins. Carbon steel wall panels are usually installed on your concrete pad, making a steel floors unnecessary. Steel floors are used only when a tank is engineered to be self-anchored and is installed on a compacted granular/road base ring foundation. In special circumstances, panels can be installed on gravel surfaces.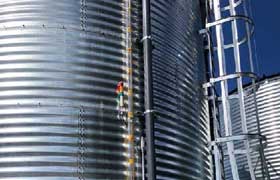 The sidewall sheet design is based on a combination of AISI for bolted joint connections and the requirements set forth by AWWA chapter 5. Tank walls are seismically anchored to the foundation as needed. Any safety apertures or additional options you've chosen are assemble on site. This may include guardrails, deck access, ladder systems, bridges, catwalks, and more. The roof style selected, if you don't have an open tank, is also installed on site. Roof designs evaluation are to ASCE 7 and AWWA specifications.
We are committed to helping you to solve any problems that might arise before or during tank installation, and being there for you after tank installation is complete. For more information, talk with one of our tank specialists today.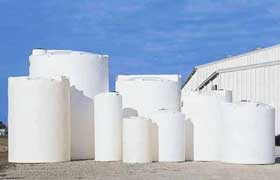 See our bulk storage tankspage for information on our other water storage options.
We have additional installation options available to add to your tank materials and delivery, including appurtenances, engineering, construction, and other tank options. Ask us for more information!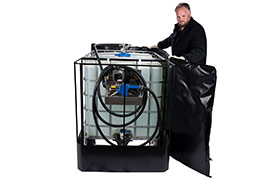 Our Custom Tank Blanket Heaters are exactly what you need for tank freeze protection. When cold weather affects the viscosity of fuel, fluids, and other materials you can lose production time, adding additional costs. Heater blankets keep your tanks and smaller corrugated/steel tanks at constant temperature, preventing fluids from freezing in extreme conditions. We customize thermal blankets to meet your specific needs, no matter the tank size or shape. Call us today to find out more!

If you have questions about products, give us a call at 1-863-261-8388 or request a price quote.