Small Acreage Sprayers
ATV, UTV, and PCO Sprayer Selection for Sale
Deciding on the right small acreage sprayer will depend entirely on the type of application and the range and coverage of water spraying that you desire. Our small acreage water sprayers come in a variety of gallon capacities, ranging from 15 to 500 gallons and ranging in spray coverage from targeting to covering large swaths (30 feet).
Our small sprayers are perfect for ATVs, UTVs, PCOs, pickup trucks and more. Customize these small acreage sprayers with our abundant list of accessories and add-ons to meet your exact application requirements. Our skid sprayers and skid sprayer accessories are made in the USA and ship from a variety of places across the nation, saving money on shipping and freight!
Please feel free to browse the Small Acreage Sprayers below or Contact Us with any questions and Call Us 1-863-261-8388.
*Ask us about our special financing options!
Small Acreage Sprayer Options (15 to 500 Gallons!)
60 Gallon Skid Sprayers and 3-Point Sprayers
We carry two 60 gallon skid sprayers—the 60 gallon 12 volt ski sprayer and the 60 gallon 3 point sprayer. The 60 gallon skid sprayer has a 12 volt relief valve diaphragm pump, Shurflo 4.0 GPM pump with adjustable pressure. The 60 gallon polyethylene tank skid sprayer comes with a pressure gauge hose and spray gun holder, deluxe handgun sprayer with an adjustable spray tip, and 25' hose.
The 60 gallon 3 point sprayer boasts a corrosion-resistant polyethylene tank, durable 3-point carrier frame, roller pump system, pressure adjustment, and an easy-to-reach off/on boom control. The 3-point sprayer has optional equipment of a handgun sprayer kit with a 25' hose or 6-roller cast iron pump and 540 rpm coupler.
110 and 150 Gallon Skid Sprayer
You can choose between the 110 or 150 gallon capacity skid mounted sprayer to meet your medium-sized spraying applications. Selection the best option, whether a boom or a hose with an adjustable nozzle for a variety of waters to spray at your fingertips. With the help of a handgun sprayer, even fence spraying becomes a breeze. Or, for spraying with a larger coverage swath, you can choose among out boom sprayers and our boomless spraying options.
Large Skid Sprayers: 200, 300, 500 Gallons
The large skid sprayers we offer include gallon capacities of 200, 300, and 500 elliptical tanks. Elliptical tank skid sprayer options come equipped with pump (Honda and Briggs), hose reel kits, boom sprayer assemblies, and boomless sprayer options. These elliptical skid sprayers offer superior durability with a high tank capacity that is perfect for spraying applications on large landscapes.
UTV, ATV, and PCO Sprayers
One of the best parts about our small acreage sprayers is their versatility. Use our skid sprayers with PCOs (Pest Control Operators), ATVs, UTVs, and pickup trucks. Pest Control Operator Sprayers are great for pest and insect control spraying for nurseries, lawns, and campuses and more. ATV and UTV skid sprayers are practically all-terrain options for watering and herbicide, insecticide, and fertilizer spraying. You can easily place these skid sprayers in the back of an ATV, UTV, or other vehicles, and begin spraying.
PCO Sprayers
ATV Sprayers
Boomless UTV Sprayers
UTV sprayers with Boom
Spot Sprayers: 15-55 Gallons
Our spot sprayers come in different levels and categories to meet your exact needs. These tires of spot sprayers include: Bronze, Silver, Gold, Diamond, and Platinum. These spot sprayers range from 15 to 55 gallons depending on what level they are, and they have different features and elements that set them apart. From Bronze to Platinum, they ascend and increase in both the level of features they offer and their price. We also offer Coiled Hose Spot Sprayer, 40 Gallon Spot Sprayers, 15 and 25 Gallon Brush Sprayers, and Deluxe Rack Spot Sprayers.
Skid Mounted Fire Fighting Units
Our skid mounted fire fighting units range in size and configuration to fit your fire suppression and spraying needs. Our skid mounted fire fighting units come in 100, 200, 300, and 1200 gallon capacities. These fire fighting skid sprayers can be outfitted with a 100' hose reel, burn control plumbing kit, fire nozzle and more. Customize and outfit you fire fighting skid sprayers to meet your exact needs.
Skid Sprayer Accessories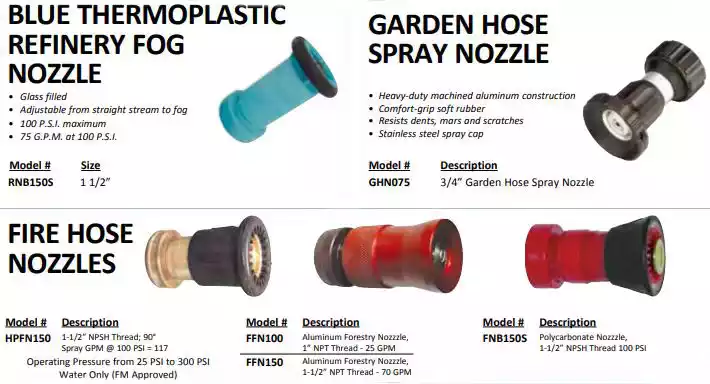 Our wide selection of skid sprayer tools and accessories allows you to customize and outfit your skid sprayer to meet you exact application needs. These skid sprayer accessories provide you with additional features and functionality for your skid sprayer. Popular options include: 12 volt on/off wireless remote control, Multi-Lid measuring cup for pouring chemicals, replacement handgun sprayers, drain cap and tank lid, replacement pressure gauges, ATV and UTV sprayer plumbing manifolds, wiring harnesses, and much more. We also provide replacement parts, although they are not usually needed. You can order some skid sprayer accessories as part of your skid sprayer package and others you have to order separately.
Skid Sprayer Boom and Nozzles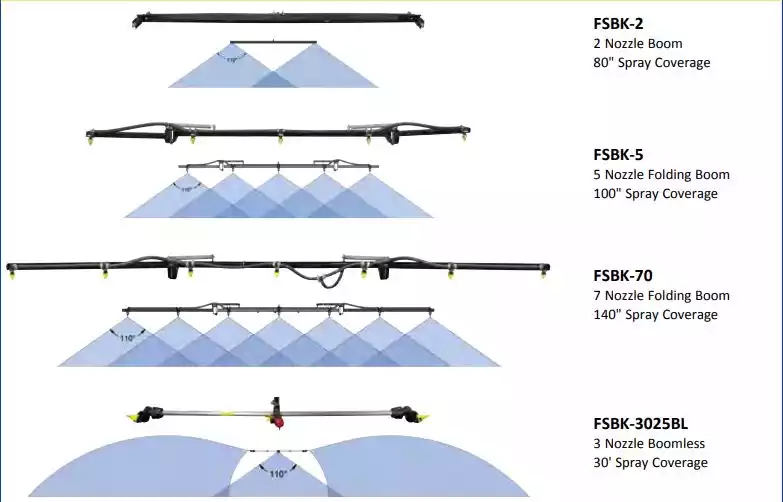 In addition to the skid sprayer accessories we offer, we also have a selection of boom sprayers, boomless sprayers, and boom and boomless nozzles. Our lawn and garden sprayer booms include the 2-nozzle boom sprayer (80" spray coverage), 5-nozzle boom sprayer (100" spray coverage), 7-nozzle boom sprayer (140' spray coverage), and the 3-nozzle boomless sprayer (30' spray coverage). Our spray nozzle accessories come in different styles. For dust control units we carry: fixed, steel nozzles and adjustable angle nozzles. We also carry adjustable pattern fog nozzles. These nozzles include: Blue Thermoplastic Refinery Fog Nozzle, Garden Spray Nozzle, and three models of Fire Hose Nozzles.
Small Acreage Sprayer Applications
Our skid sprayers are durable, versatile units meant for a variety of spraying and watering applications. Use them as tractor sprayers and small farm weed sprayers. Use these skid sprayers for weed control, pest control, fire suppression, live stock washing and watering, poultry house spraying, horse stall cleaning and more. Use the boom sprayers for dust control and crop watering.
Interested in our small acreage sprayers for sale? We can help! Call us at 1-863-261-8388 or request a price quote.