One Clarion Water Trailer for Sale
Trailer Mounted Water Tank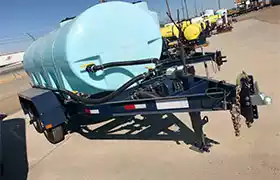 Our One Clarion 1600 Gallon Water Trailer for sale is a heavy-duty water tank providing the right solution for your on and off-road projects. The DOT compliant mounted trailer delivers more water to where you need it most. Our trailer can handle twice the load-bearing capacity of smaller tanks, making it perfect for both water and heavier liquids. With a 1600-gallon tank, hose, pump, 5.5 Honda engine and adjustable spray nozzle, you have the added water capacity you want with the spraying power you need!
Our DOT water-hauling trailer is constructed with a rugged, 7-inch reinforced channel iron frame for added strength, giving you durability and reliability on even the roughest terrain. Backed by a 5 yr. warranty and 3 yr. non-prorated tank warranty, our water trailer package gives operational convenience, safety and durability. Non-prorated means your tank is 100% covered for the entire warranty period! This mounted water tank is affordable and one of the most well-made on the market. One Clarion trailers are made in the USA, in stock, and ready to ship to you! Select the location that best fits your needs for freight and lead-time. We ship from AL, AZ, CA, KY, KS, MN, ND, NE, and WA. Give us a call us at 1-863-563-3357 and order yours today!
For more information on smaller trailers, see our 1010 Gallon One Clarion Water Trailer  and 525 DOT trailer page.
Not what you're looking for? We have an extensive list of styles, sizes, and components at exceptional pricing. We ship from warehouses across the U.S. Our team will work to provide the equipment you need; in the time frame you need it. Contact us for information on other liquid storage options.
Explore financing possibilities for this product; click here to apply for financing!
Easier Control with our Water Tank Trailer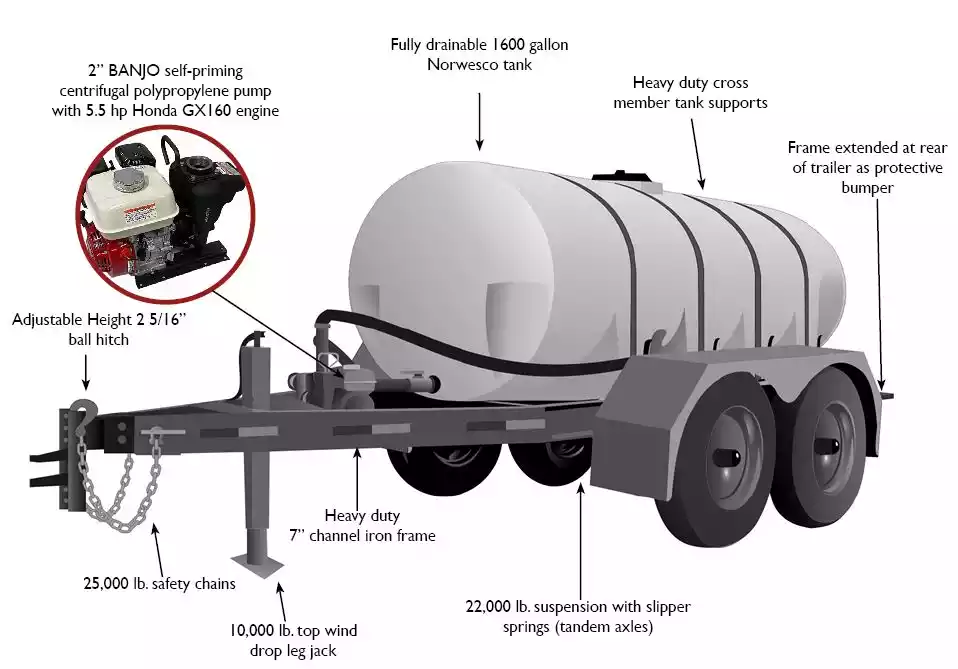 Our One Clarion water trailer package is crafted to provide a specific balance of operational convenience, safety and durability. The BANJO self-priming pump is supported by a 5.5 HP Honda engine, for superior performance and reliability. The 1600 water tank trailer's slipper-leaf spring suspension allows the weight of liquid to be distributed evenly, improving balance on un-level ground and increasing maneuverability on job sites. Our extra heavy-duty 7-inch channel iron frame comes with DOT-compliant reflectors and LED brake lights to be used on public roads. The height-adjustable ball hitch makes attaching or detaching your truck and trailer quick and easy.
1600 Gallon DOT Water Trailer Features and Benefits
Features
5.5 HP Honda GX160 engine
2" Banjo Self-Priming Centrifugal Pump
Heavy Duty 7" Channel Iron Frame
Electric Brakes, Fenders, & Lighting
Adjustable Wide-Angle Spray Nozzle
22,000 lb. Suspension With Slipper Springs (Tandem Axles)
Benefits
DOT-Compliant
Greater Load Bearing Capability
Built for Heavy Hauling, On or Off Road
Easy to Maneuver
Designed for stable weight distribution
Low maintenance
5 Yr. Frame And 3 Yr. Non-Prorated Tank Warranty
*Fire hose kit options available on request (not included)
For more information, see our 1610 Gallon Water Trailer PDF.
1600 Gallon Water Tank Applications
Whether it's washing stalls on a farm or using for arena dust suppression, the 1600 Gallon DOT Water Trailer for sale can handle the job. Ways to use the water tank trailer include: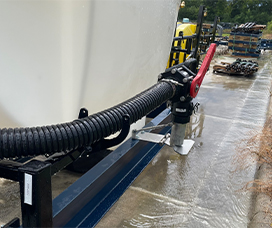 Lifestock Watering
Arena Watering
Construction Equipment Wash-down
Pesticide or Fertilizer Application
Landscape Projects
Agricultural Use
Demolition Wetting
Dust Control
Fire Suppression
Deicing Projects and more!
Additional Water Trailer Accessories
We have water trailer accessories to customize trailers for your specific needs. Optional accessories include algae resistant black tank, extended frame, fire hose/reel/nozzles, suction hose/strainer/stand, tank sight gauge, engine & pump choices, mixers, booms, nozzles, and much more. If you're looking for a water trailer with virtually unlimited customizable options, our Water Trailers are the answer. Ask your One Clarion representative for a list of other available accessories!
For freeze protection for your water trailer or skid, our Water Trailer Heater Blankets are exactly what you need . When cold weather affects the viscosity of fuel, fluids, and other materials you can lose production time, adding additional costs. Power blankets keep your tanks and smaller corrugated/steel tanks at constant temperature, preventing fluids from freezing in extreme conditions. We customize thermal blankets to meet your specific needs, no matter the tank size or shape. Call us today to find out more!
You can also view all our water trailers on the Portable Water Tank Trailer main page.
Questions about the 1610 gallon water trailer? We can help! Call us at 1-863-261-8388 or request a price quote.