---
Rain Water Storage Tanks
Lawn and Garden Tanks for Rainwater Storage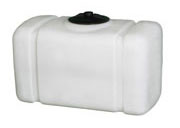 Rain Water Storage Tanks are a collection and storage unit used for water containment, storage and transportation. Often referred to as the lawn and garden tank, this model is designed for low profile storage, quick filling and easy transportation around your area.
As a self-supporting tank these models are built from polyethylene and include a top fill, bottom legs and a low-profile horizontal design. This allows the tank to effectively store liquids on the ground, while still being equipped for transportation. Whether used as a drinking water storage tank, rainwater collection unit, spot sprayer or watering device these water tanks make liquid storage fast, safe and easy.
Rainwater Storage Tank Features:
Material: Polyethylene
Available Colors: White or Black
UV Stabilized

Hose Wrap Included
Specific Gravity of 1.5
Can be Mounted to Vehicles
Benefits:.
Easy Transportation
Compact Design
Low Profile

Doubles as a Sprayer Tank
Equipped for Outdoor Storage


Typical Applications:
Stationary Storage and Collection of Rainwater
Sprayer around Nurseries
Spot Spraying Jobs
Water for Farms and Agricultural Settings
Residential Watering System
Lawn & Garden Technical Specifications

Capacity (gal)

Diameter

Length

Height

Weight (lbs)

15

14"

29.5"

13"

11

25

20"

30"

17"

15

50

27"

30"

22"

23

100

29.5"

47"

26.5"

23

Looking for larger rain water storage tanks? In addition to the models featured here we also offer several tank options for storage, containing and transporting liquids.

---
© Copyright GEI Works 2011-2018. All rights reserved.
GEI Works is a global solutions provider offering our expertise and products to the following states, countries, territories and provinces:

States:

Alabama, AL | Alaska, AK | Arizona, AZ | Arkansas, AR | California, CA | Colorado, CO | Connecticut, CT | Delaware, DE | Florida, FL | Georgia, GA | Hawaii, HI | Idaho, ID | Illinois, IL | Indiana, IN | Iowa, IA | Kansas, KS | Kentucky, KY | Louisiana, LA | Maine, ME | Maryland, MD | Massachusetts, MA | Michigan, MI | Minnesota, MN | Mississippi, MS | Missouri, MO | Montana, MT | Nebraska, NE | Nevada, NV | New Hampshire, NH | New Jersey, NJ | New Mexico, NM | New York, NY | North Carolina, NC | North Dakota, ND | Ohio, OH | Oklahoma, OK | Oregon, OR | Pennsylvania, PA | Rhode Island, RI | South Carolina, SC | South Dakota, SD | Tennessee, TN | Texas, TX | Utah, UT | Vermont, VT | Virginia, VA | Washington, WA | West Virginia, WV | Wisconsin, WI | Wyoming, WY

Countries, Territories and Provinces:

Malaysia, MY | Indonesia, ID | Antigua and Barbuda, AG | Bahamas, BS | Barbados, BB | Belize, BZ | British Virgin Islands, VG | Cayman Islands, KY | Dominican Republic, DO | Grenada, GD | Haiti, HT | Jamaica, JM | Montserrat, MS | Puerto Rico, PR | Saint Lucia, LC | Saint Vincent and the Grenadines, VC | Trinidad and Tobago, TT | Turks and Caicos Islands, TC | United States, US | US Virgin Islands, VI | Mexico, MX | Campeche, CM | Quintana Roo, QR | Yucatan, YU | Central and South America | Canada, CA | Alberta, AB | British Columbia, BC | Manitoba, MB | New Brunswick, NB | Newfoundland and Labrador, NL | Northwest Territories, NT | Nova Scotia, NS | Nunavut, NU | Ontario, ON | Prince Edward Island, PE | Quebec, QC | Saskatchewan, SK | Yukon, YT