---
Plastic Water Storage Tanks
Cone Bottom Water Storage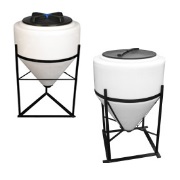 The Cone Bottom Plastic Water Storage Tank is an easy way to store and drain chemicals, water and other mixtures. Made in a range of sizes these tanks are great for areas where quick and effective draining and/or mixing is required.
Cone bottom tanks are constructed from a polyethylene material that is naturally resistant to rust, outdoor use, UV exposure and chemicals. Standard construction of the tanks additionally allows for a high chemical resistance to liquids being stored within the tank. This system allows for effective
outdoor storage and reliable use with multiple chemicals and liquids.
Plastic Water Storage Tank Features:
Manways
2" Standard Fittings
UV Stabilized
Polyethylene Construction
Cone Bottom
Polypropylene Fittings and Accessories
Benefits:
Fast and Effective Tank Draining
Reliable Storage for Various Types of Non-Potable Water
Rated to Handle Outdoor Exposure
Multiple Sizing and Storage Options
High Resistance to Impact
Typical Applications:
Storage of Water on Site, Facilities, and Various Locations
Transportation of Water Around your Location
Chemical Mixing and Draining
Beer Brewing

Cone Tank Specifications




Capacity

Dimensions (diameter x L)

Manway

Fitting

15
19" x 23"
8"
2" outlet
15
24" x 21"
16"
2" outlet
30
24" x 28"
16"
2" outlet
35
23" x 29"
8"
2" outlet
60
31" x 32"
16"
2" outlet
60
24" x 42"
16"
2" outlet
75
33" x 43"
22"
2" outlet
80
32" x 37"
16"
2" outlet
100
33" x 50"
22"
2" outlet
150
33" x 66"
22"
2" outlet
Plastic Water Storage Tanks are available in a range of styles to meet different needs and requirements. Models include horizontal tanks, rectangular tanks, vertical tanks and a range of other models. For more information on these and other tanks, check out our Plastic Water Storage Tanks.

---
© Copyright GEI Works 2011-2018. All rights reserved.
GEI Works is a global solutions provider offering our expertise and products to the following states, countries, territories and provinces:

States:

Alabama, AL | Alaska, AK | Arizona, AZ | Arkansas, AR | California, CA | Colorado, CO | Connecticut, CT | Delaware, DE | Florida, FL | Georgia, GA | Hawaii, HI | Idaho, ID | Illinois, IL | Indiana, IN | Iowa, IA | Kansas, KS | Kentucky, KY | Louisiana, LA | Maine, ME | Maryland, MD | Massachusetts, MA | Michigan, MI | Minnesota, MN | Mississippi, MS | Missouri, MO | Montana, MT | Nebraska, NE | Nevada, NV | New Hampshire, NH | New Jersey, NJ | New Mexico, NM | New York, NY | North Carolina, NC | North Dakota, ND | Ohio, OH | Oklahoma, OK | Oregon, OR | Pennsylvania, PA | Rhode Island, RI | South Carolina, SC | South Dakota, SD | Tennessee, TN | Texas, TX | Utah, UT | Vermont, VT | Virginia, VA | Washington, WA | West Virginia, WV | Wisconsin, WI | Wyoming, WY

Countries, Territories and Provinces:

Malaysia, MY | Indonesia, ID | Antigua and Barbuda, AG | Bahamas, BS | Barbados, BB | Belize, BZ | British Virgin Islands, VG | Cayman Islands, KY | Dominican Republic, DO | Grenada, GD | Haiti, HT | Jamaica, JM | Montserrat, MS | Puerto Rico, PR | Saint Lucia, LC | Saint Vincent and the Grenadines, VC | Trinidad and Tobago, TT | Turks and Caicos Islands, TC | United States, US | US Virgin Islands, VI | Mexico, MX | Campeche, CM | Quintana Roo, QR | Yucatan, YU | Central and South America | Canada, CA | Alberta, AB | British Columbia, BC | Manitoba, MB | New Brunswick, NB | Newfoundland and Labrador, NL | Northwest Territories, NT | Nova Scotia, NS | Nunavut, NU | Ontario, ON | Prince Edward Island, PE | Quebec, QC | Saskatchewan, SK | Yukon, YT