Corrugated Bolted Steel Tanks
Rain water Harvesting Tank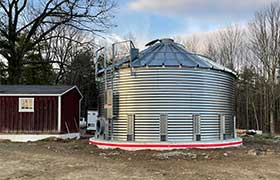 Our long-lasting corrugated bolted steel tanks are versatile and corrosion resistant, making them an ideal choice for fire suppression, irrigation, food manufacturing, rainwater harvesting, fracking and more. Keeping your specific site and tank application in mind, rainwater-harvesting tanks are available in sizes from 722 gallons to over 2.9 million gallons.
Our tanks are approved for fire protection, wastewater, irrigation, potable water and many other liquid storage applications. Check out our cost effective water storage solution here.
For detail, please see: Corrugated Water Tank Flyer (pdf).
Our corrugated water storage is designed for your specific tank project. Specification may include roof styles and wall height, nozzles, fittings, or appurtenances for your particular project or location. Innovative engineering and unique fabrication makes your tank and assembly significantly less than competitors tank installations. Our rainwater-harvesting tank is reliable, cost effective, and made in the US.
Features

Benefits

722 to over 2 million gallon tanks
Hot Dip Galvanized coating
Corrosion resistant
AWWA Approved Tanks
Liner options-NFPA 22 and NFS-61 equivalent
Roof options available
Concrete, steel and gravel floor options
Installation and engineering services available
Up to 20 yr. warranty

Large storage capacities
Resistant to wind, snow, and seismic activity
Light Weight panels
Extended life span
Multiple customization options
Extended lifespan from 30-35 years
Cost Effective
Short manufacturing lead times
Check out our Corrugated Steel Water Tanks PDF Flyer to learn more.
Explore all of our Corrugated Tank details here:
Corrugated Steel Tank Applications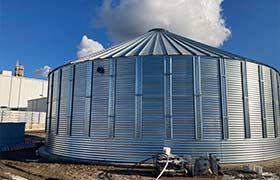 Rainwater Collection – Supplement local water supplies with rainwater harvesting tanks. The water you collect is perfect to use for potable or non-potable water or for irrigation. Cities, homes and businesses can minimize water costs through rainwater harvesting and storage.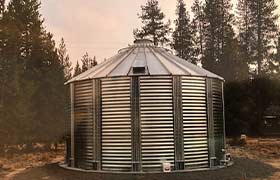 Fire Protection – Our fire protection water tanks are NFPA22-approved, making them ideal for supplementing your water supply needs. Storage tanks are specifically engineered to meet residential, commercial, or municipal codes for effective emergency fire protection.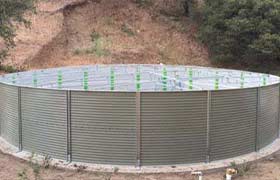 Stormwater Storage – Stormwater can overwhelmed sewer systems and treatment plants due to Stormwater Runoff. Corrugated steel water tanks hold stormwater for processing and purification, preventing For use in cities, towns and other protected areas to catch, provide controlled retention and prevent inherent flooding issues.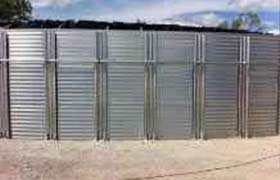 Waste/process/frac- Frac water tank tanks are created with G115 sheets, making them a reliable choice for large capacity liquid storage. Waste water storage tanks are strong enough to support weight and volume of water storage for oil fields, mining, wastewater, or hydraulic fracturing locations.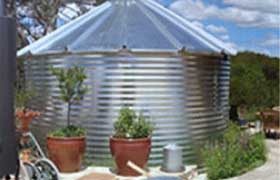 Irrigation- Utilizing ASCE structural codes, our irrigation water tank meets IBC/UBC requirements. Reliable, on-demand delivery of water is a must for the survival of farm and ranch operations. Our cost saving engineering, tank panel delivery, and onsite builds give economic security to ag-related industries.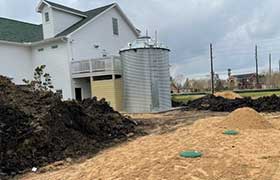 Potable Water Supply – Our potable water storage tank is a quick, cost effective solution for water storage needs for cities and towns. Used by Water Management during emergency situations, our AWWA approved tanks can provide communities with a clean, reliable water source.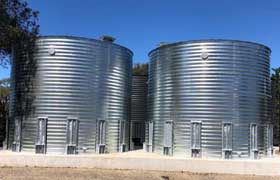 Emergency Water Storage - Local officials use emergency water storage for community water as part of thier municipal emergency management plan. Our potable water tanks have liners that are NFs-61 rated, providing safe water supply when facing a disaster for cities and towns.

If you have questions about products, give us a call at 1-863-563-3357 or request a price quote.
Corrugated Steel Tank Installation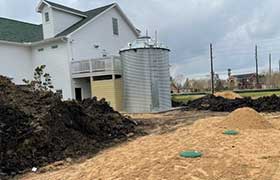 Corrugated bolted steel tank panels are created based on your tank calculations. Our tank calculator is available to help you calculate your usable gallon requirements. Once your tank has been manufactured, it is delivered to your location for onsite assembly. This is where using our line drawings option comes in handy, to help you see your steel tank is seen from every possible angle. You can envision your tank before it's installed: aerial view, side view with elevation specifications, and detailed dimensions of your tank, including any appurtenances or custom features. Find out more about our tank installation and engineering options here.

If you have questions about products, give us a call at 1-863-270-8118 or request a price quote.