Portable Water Trailer
500 gallon Water Trailer
I am in need of a portable water trailer, 500 gallons. Do you have this?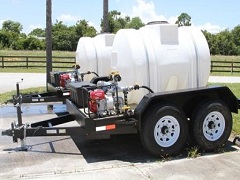 For water transportation and storage, the 500 gallon Express Water Trailer is a great choice. This unit features DOT approved trailers, 500 gallon water storage tanks, and available pumps, engines, and nozzles. Their strong design and approved transportation method has made them a favorite for portable water storage.
View More Water Trailers.
If you have questions about these products, give us a call at +1-772-646-0597 or request a price quote.
* Ask us about financing options!

Features: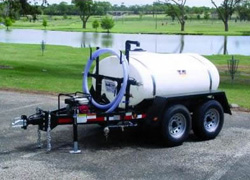 One of the many great features included on these tanks is their ability to be safely transported on roads. The following features help create this DOT approved trailer unit:
15" Tires on EZ Lube Hubs
DOT Approved Lights
Surge Brakes (Electric Brakes also available)
2" Ball Hitch (3" pintle also available)
Diamond Tread Fenders
In addition, these tank and trailer systems also have the following features available:
500 gallon Elliptical Plastic Tank
20 ft. Suction Hose
4 hp Honda Engine
2" Tsurumi Pump
Anti-Siphon Fill
Galvanized Spray Bar
Water Trailer Applications:
These water trailers have been used for several water needs including some of the following:
Water Transportation
Spray Applications for Plants, Crops & Livestock
Dust Control
Dirt Packing on Construction Sites
Vegetation Watering
In addition, we also offer several other water trailers that can help control dust, water crops, and give you spray ability in your location. These tanks include similar sizes 500 gallon trailers, as well as several larger units up to 1600 gallons.
View More Water Trailers.
---
© Copyright GEI Works 2011-2018. All rights reserved.
GEI Works is a global solutions provider offering our expertise and products to the following states, countries, territories and provinces:

States:

Alabama, AL | Alaska, AK | Arizona, AZ | Arkansas, AR | California, CA | Colorado, CO | Connecticut, CT | Delaware, DE | Florida, FL | Georgia, GA | Hawaii, HI | Idaho, ID | Illinois, IL | Indiana, IN | Iowa, IA | Kansas, KS | Kentucky, KY | Louisiana, LA | Maine, ME | Maryland, MD | Massachusetts, MA | Michigan, MI | Minnesota, MN | Mississippi, MS | Missouri, MO | Montana, MT | Nebraska, NE | Nevada, NV | New Hampshire, NH | New Jersey, NJ | New Mexico, NM | New York, NY | North Carolina, NC | North Dakota, ND | Ohio, OH | Oklahoma, OK | Oregon, OR | Pennsylvania, PA | Rhode Island, RI | South Carolina, SC | South Dakota, SD | Tennessee, TN | Texas, TX | Utah, UT | Vermont, VT | Virginia, VA | Washington, WA | West Virginia, WV | Wisconsin, WI | Wyoming, WY

Countries, Territories and Provinces:

Malaysia, MY | Indonesia, ID | Antigua and Barbuda, AG | Bahamas, BS | Barbados, BB | Belize, BZ | British Virgin Islands, VG | Cayman Islands, KY | Dominican Republic, DO | Grenada, GD | Haiti, HT | Jamaica, JM | Montserrat, MS | Puerto Rico, PR | Saint Lucia, LC | Saint Vincent and the Grenadines, VC | Trinidad and Tobago, TT | Turks and Caicos Islands, TC | United States, US | US Virgin Islands, VI | Mexico, MX | Campeche, CM | Quintana Roo, QR | Yucatan, YU | Central and South America | Canada, CA | Alberta, AB | British Columbia, BC | Manitoba, MB | New Brunswick, NB | Newfoundland and Labrador, NL | Northwest Territories, NT | Nova Scotia, NS | Nunavut, NU | Ontario, ON | Prince Edward Island, PE | Quebec, QC | Saskatchewan, SK | Yukon, YT