Horizontal Plastic Tank
For Easy Trailer Mounting
Hello. I am looking for a vertical or horizontal plastic tank that I can use for water storage and hook up to a trailer. Do you have anything for this kind of application?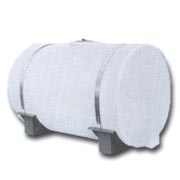 For trailer mounted or transportation applications, horizontal tanks can be can excellent choice. When compared to a vertical tank, a horizontal or elliptical tank offers a low center of gravity which can often mean that the tank is more stable during transportation.
Horizontal tanks come in a variety of different options including a standard round horizontal unit, a horizontal leg tank, and an elliptical tank for low-level transportation. View All Water Tanks.
Horizontal Storage Tank:
A great choice for horizontal storage is the standard, legless, Horizontal Water Tank. This highly reliable tank comes with a flat bottom and molded grooves for easy transportation on the back of vehicles. Other features include:
Sump Bottom for easy draining
UV Stabilized Exterior
Polyethylene Construction for water or chemical storage
Gallonage Marker on the end of the tank
10" Vented Lid
Band Grooves for secure placement of bands

Stainless steel bands available to help secure you tank

Available Colors include: white, black

Black can help lower algae growth within your tank

Available Capacities: 200, 300, and 500 gallons
Elliptical Tanks:
Elliptical Tanks are also a great choice for portable water storage. Similar to the tanks above, these units are extremely easy to transport and have often been secured to both trucks and trailers for smooth movement of water. Features include:
FDA Approved for Potable Water
Polyethylene Construction
Molded Band Grooves
Specific Gravity of 1.5
10" Vented Lid
Sump
UV Stabilization
Gallon Marker
Available Capacities: 300, 500, or 1000 gallons
---
© Copyright GEI Works 2011-2018. All rights reserved.
GEI Works is a global solutions provider offering our expertise and products to the following states, countries, territories and provinces:

States:

Alabama, AL | Alaska, AK | Arizona, AZ | Arkansas, AR | California, CA | Colorado, CO | Connecticut, CT | Delaware, DE | Florida, FL | Georgia, GA | Hawaii, HI | Idaho, ID | Illinois, IL | Indiana, IN | Iowa, IA | Kansas, KS | Kentucky, KY | Louisiana, LA | Maine, ME | Maryland, MD | Massachusetts, MA | Michigan, MI | Minnesota, MN | Mississippi, MS | Missouri, MO | Montana, MT | Nebraska, NE | Nevada, NV | New Hampshire, NH | New Jersey, NJ | New Mexico, NM | New York, NY | North Carolina, NC | North Dakota, ND | Ohio, OH | Oklahoma, OK | Oregon, OR | Pennsylvania, PA | Rhode Island, RI | South Carolina, SC | South Dakota, SD | Tennessee, TN | Texas, TX | Utah, UT | Vermont, VT | Virginia, VA | Washington, WA | West Virginia, WV | Wisconsin, WI | Wyoming, WY

Countries, Territories and Provinces:

Malaysia, MY | Indonesia, ID | Antigua and Barbuda, AG | Bahamas, BS | Barbados, BB | Belize, BZ | British Virgin Islands, VG | Cayman Islands, KY | Dominican Republic, DO | Grenada, GD | Haiti, HT | Jamaica, JM | Montserrat, MS | Puerto Rico, PR | Saint Lucia, LC | Saint Vincent and the Grenadines, VC | Trinidad and Tobago, TT | Turks and Caicos Islands, TC | United States, US | US Virgin Islands, VI | Mexico, MX | Campeche, CM | Quintana Roo, QR | Yucatan, YU | Central and South America | Canada, CA | Alberta, AB | British Columbia, BC | Manitoba, MB | New Brunswick, NB | Newfoundland and Labrador, NL | Northwest Territories, NT | Nova Scotia, NS | Nunavut, NU | Ontario, ON | Prince Edward Island, PE | Quebec, QC | Saskatchewan, SK | Yukon, YT