Fiberglass Water Tanks
For Storage
Hello. I am looking for fiberglass water tanks that I can use for water storage. Do you have fiberglass?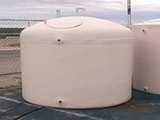 We do offer several fiberglass tanks both in above ground and underground models. Depending on available space or water requirements, you can easily choose the model that will best fit your location.
The fiberglass tanks are often used to store rainwater, drinking water, or water that will later be supplied to utility systems.
Similar to plastic, fiberglass is a highly durable material that can resist several environmental factors. Many customers enjoy fiberglass for its ability to resist rusting, denting, corroding, cracking, and leaking.
If you have questions about these products, give us a call at +1-772-646-0597 or request a price quote.
* Ask us about financing options!
Standard advantages customers enjoy when using these tanks include:
Durable: As mentioned previous, fiberglass is a highly durable material that will keep your liquid container strong for the duration of its storage.
Built in Resins: Fiberglass tanks are made with the resin that matches your liquid material. This helps custom fit the tank to your storage needs. For example, if you wish to store drinking water, tanks will be built with the appropriate FDA approved resin.
Flexible: During the molding process, fiberglass offers a high level of flexibility for custom made tanks or unique storage locations. This helps fit the tank to your size restrictions or requirements.
Common uses for these Fiberglass Water Tanks:
Bulk Above Ground Water Storage
Underground Water Storage for Sprinkler Systems and Utilities
Rain Water Collection
Water Supply for Laundromats and Industrial Facilities
---
© Copyright GEI Works 2011-2018. All rights reserved.
GEI Works is a global solutions provider offering our expertise and products to the following states, countries, territories and provinces:

States:

Alabama, AL | Alaska, AK | Arizona, AZ | Arkansas, AR | California, CA | Colorado, CO | Connecticut, CT | Delaware, DE | Florida, FL | Georgia, GA | Hawaii, HI | Idaho, ID | Illinois, IL | Indiana, IN | Iowa, IA | Kansas, KS | Kentucky, KY | Louisiana, LA | Maine, ME | Maryland, MD | Massachusetts, MA | Michigan, MI | Minnesota, MN | Mississippi, MS | Missouri, MO | Montana, MT | Nebraska, NE | Nevada, NV | New Hampshire, NH | New Jersey, NJ | New Mexico, NM | New York, NY | North Carolina, NC | North Dakota, ND | Ohio, OH | Oklahoma, OK | Oregon, OR | Pennsylvania, PA | Rhode Island, RI | South Carolina, SC | South Dakota, SD | Tennessee, TN | Texas, TX | Utah, UT | Vermont, VT | Virginia, VA | Washington, WA | West Virginia, WV | Wisconsin, WI | Wyoming, WY

Countries, Territories and Provinces:

Malaysia, MY | Indonesia, ID | Antigua and Barbuda, AG | Bahamas, BS | Barbados, BB | Belize, BZ | British Virgin Islands, VG | Cayman Islands, KY | Dominican Republic, DO | Grenada, GD | Haiti, HT | Jamaica, JM | Montserrat, MS | Puerto Rico, PR | Saint Lucia, LC | Saint Vincent and the Grenadines, VC | Trinidad and Tobago, TT | Turks and Caicos Islands, TC | United States, US | US Virgin Islands, VI | Mexico, MX | Campeche, CM | Quintana Roo, QR | Yucatan, YU | Central and South America | Canada, CA | Alberta, AB | British Columbia, BC | Manitoba, MB | New Brunswick, NB | Newfoundland and Labrador, NL | Northwest Territories, NT | Nova Scotia, NS | Nunavut, NU | Ontario, ON | Prince Edward Island, PE | Quebec, QC | Saskatchewan, SK | Yukon, YT