1600 Gallon DOT Water Trailer
---
1600 gallon DOT Water Trailer
Q: Hello. I am looking for a 1600 gallon DOT water trailer and I would like to known what items would be included with this unit, as well as what type of tank is being use. I need this large tank for dust suppression and watering activities, but I especially require the tank to be able to be transported on roads. Would you have any trailer this large?
A: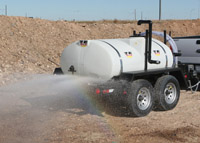 For the size trailer that you have specified, we do offer a large 1600 gallon Water Tank Trailer. This trailer features a larger storage capacity and a DOT approved trailer that can successfully be used to transport water from one location to the next. For transportation, these trailers use a large 1600 gallon elliptical leg tank that is made from a polyethylene storage material.
Typical Water Trailer Features
As one of our express water trailers, these units feature a high quality water storage tank, DOT approved trailer, and easy pumping system for spraying, water, and other suppression activities. Some of the typical features you will find on this tank include some of the following:
1600 gallon Polyethylene Tank: All water trailers come equipped with a high quality, 1600 gallon polyethylene tank. Like all our polyethylene models, these tanks feature a high resistance to several chemicals, rust, and corrosion for long-lasting use.


DOT Approved Trailer: The DOT approved trailer is designed for safe road transportation and typically includes electric brakes, 7" channel iron frame, DOT approved light and reflector kit, and heavy duty road-equipped fenders.
Also included with every model is some of the following equipment:
4 hp Honda Engine
Tsurumi Pump
Galvanized Suction and Discharge Manifold
Suction Hose
Tandem Axle
Anti-Siphon Fill
Fully equipped with these items, these water tank and trailer systems have been successfully used in several different suppression, watering and transportation applications. Once of their best advantages is their ability to transport large gallons of water from one location to the next in a DOT approved unit.
Some typical applications where this 1600 gallon DOT water trailer has been used includes some of the following:
Arenas where Dust Suppression or Ground Packing is necessary
Large Fields that Require Fertilizing or Pest Control
Construction Sites in need of Dust Suppression
Areas in need of Large-Scale Watering
Movement of Potable Water from one location to the next
---
© Copyright GEI Works 2011-2018. All rights reserved.
GEI Works is a global solutions provider offering our expertise and products to the following states, countries, territories and provinces:

States:

Alabama, AL | Alaska, AK | Arizona, AZ | Arkansas, AR | California, CA | Colorado, CO | Connecticut, CT | Delaware, DE | Florida, FL | Georgia, GA | Hawaii, HI | Idaho, ID | Illinois, IL | Indiana, IN | Iowa, IA | Kansas, KS | Kentucky, KY | Louisiana, LA | Maine, ME | Maryland, MD | Massachusetts, MA | Michigan, MI | Minnesota, MN | Mississippi, MS | Missouri, MO | Montana, MT | Nebraska, NE | Nevada, NV | New Hampshire, NH | New Jersey, NJ | New Mexico, NM | New York, NY | North Carolina, NC | North Dakota, ND | Ohio, OH | Oklahoma, OK | Oregon, OR | Pennsylvania, PA | Rhode Island, RI | South Carolina, SC | South Dakota, SD | Tennessee, TN | Texas, TX | Utah, UT | Vermont, VT | Virginia, VA | Washington, WA | West Virginia, WV | Wisconsin, WI | Wyoming, WY

Countries, Territories and Provinces:

Malaysia, MY | Indonesia, ID | Antigua and Barbuda, AG | Bahamas, BS | Barbados, BB | Belize, BZ | British Virgin Islands, VG | Cayman Islands, KY | Dominican Republic, DO | Grenada, GD | Haiti, HT | Jamaica, JM | Montserrat, MS | Puerto Rico, PR | Saint Lucia, LC | Saint Vincent and the Grenadines, VC | Trinidad and Tobago, TT | Turks and Caicos Islands, TC | United States, US | US Virgin Islands, VI | Mexico, MX | Campeche, CM | Quintana Roo, QR | Yucatan, YU | Central and South America | Canada, CA | Alberta, AB | British Columbia, BC | Manitoba, MB | New Brunswick, NB | Newfoundland and Labrador, NL | Northwest Territories, NT | Nova Scotia, NS | Nunavut, NU | Ontario, ON | Prince Edward Island, PE | Quebec, QC | Saskatchewan, SK | Yukon, YT